Currently Reading:
Making a difference
March 5, 2010
Olympic medalist encourages symposium crowd to make a difference
Joey Cheek was sprawled out on a couch in 2005, wondering what he was going to do with a free afternoon after training all morning in an Austrian skating facility, when a BBC  program caught his eye.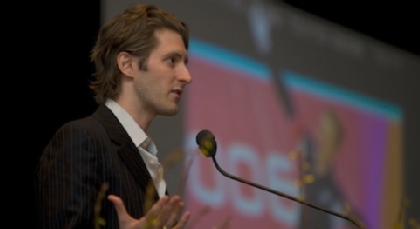 Women and children were running and screaming out of a village being set afire by rebels in someplace Cheek had never heard of called Darfur.
"Someone should do something about that," Cheek remembered thinking, and then promptly forgot about the story. Once he returned home to the U.S., Cheek was shocked that in fact, broadcasts and stories about Darfur and the slaughter of civilians there were not grabbing headlines and top story slots on the evening news. In fact, there was little if any news about the conditions that African country. It was at this juncture, Cheek decided that he decided maybe he should do something about it.
But first, he had to focus on the upcoming 2006 Olympics in Torino, Italy.
"I felt that if I ever had the spotlight, I would do something about it," he told the crowd of 200 people gathered at the Tacoma Convention Center last Thursday for the Cheek's keynote speech for the Wang Center Symposium: Understanding the World Through Sports and Recreation. At the talk, Cheek, along with William B. Stafford, was awarded PLU's Wang Center for International Programs Peace Builder Award.
After viewing that BBC program, the spotlight came perhaps sooner that Cheek expected. He won a gold and silver medal for speed skating events in the 500- and 1,000- meters, to add to his bronze medal he won during the Salt Lake City Olympic Games in 2002.
This was his time to make an impact for this cause.
"The power of leverage goes by very quickly," he said last Thursday.
So as Cheek stood before the microphones, with all the reporters expecting the usual speech of thanking the parents, the coaches, "blah, blah, blah," Cheek recalled. Cheek instead talked about Darfur, and the fact he was donating the $40,000 he'd just won for his Olympic Medals to the "Right to Play," which was helping refugees and children in Chad and other war torn areas of the world.
The donation brought Cheek full circle with his mentor, former Olympic skater Johann Olav Koss, and four-time gold medalist in speed skating for Norway. When Cheek was 14 years old, he saw Koss skate during the 1994 Lillehammer Olympics, turned to his mom and said "I want to do that."
The response to Cheek's donation in 2006 was immediate and dramatic, as suddenly everyone, from presidents to Congress wanted to hear what Cheek had to say. His $40,000 donations spurred other donations adding up to $1 million. Over 1 billion people clicked on stories about Cheek and Darfur. But Cheek told the Symposium audience that after the initial thrill, he found out that things had still not changed in Darfur.
In 2006 Cheek participated in the Clinton Global Initiative where he officially founded and launched the Darfur action organization 'Where Will We Be?'
Through WWWB, Cheek gathered an international coalition of champion athletes to join him on a trip to Darfur to continue to raise awareness and work toward a resolution of the crisis. Cheek has since folded in WWWB activities and Team Darfur, an organization which he helped launch, into the Save Darfur non-profit organization.
Cheek is attending classes as a junior at Princeton University, where he enrolled in 2007, and is studying economics. But his passions still lie with helping the people of Darfur and with humanitarian issues. That has not always gone over well with authorities in countries where human rights has been an ongoing issue.
Just days before the Opening Ceremonies of the 2008 Beijing Games – the Chinese Embassy in Washington contacted Cheek to inform him that his previously issued visa was revoked. Cheek planned to attend the Games to support the more than 72 Team Darfur athletes competing in Beijing, while also drawing attention to the on-going Darfur genocide and what China and the international community could do to stop it.
Based on comments made in 2009 to the Washington Post, in which Cheek was described as one of the few activist-athletes left, China will likely be hearing from Cheek again. Chinese is one of his minors at Princeton. At the symposium, Cheek, now 30 years old, deflected questions about what happens after Princeton. He has some ideas, but he's not ready to share them yet. Yet he encouraged the audience to find something they are passionate about and make a "ripple in the pond."
"You might not have an Olympic medal," he said. "But there's not reason you can't take your issue to an Olympic level of problem solving, and make a difference.
"You just have to decide to take the trouble to do something about it."