Currently Reading:
Students explore
March 31, 2010
From the opposite sex, to light refraction to puppies – all is explored at regional science fair
Hundreds of students, of all ages, and from schools all across the region, participated in this year's South Sound Regional Science Fair on March 27.
"I think that it's [the science fair] important because students need to be recognized for good science – for what they do as far as problem solving, for asking questions, for being curious about the world, " said Steve Colgan, fair director, as he watched over 500 students stream into Olson Auditorium last month.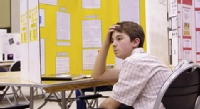 "Our role [as the science fair] is to provide a showcase for the students who take the time to explore their world… It's a way to honor and recognize them, and in a little way to recognize schools and teachers, too," Colgan said. "PLU recognizes those qualities that they want to foster, anybody in education would want to foster that too."
As the eager elementary students left Olson Auditorium late morning, with trifold project boards and parents in tow, the somewhat nervous middle schoolers set up their projects, unsure of what to expect from their efforts.
Students devised projects about everything from bridges to cookies, though one student pushed the boundaries with a project on middle school sexuality, titled "How Comfortable are Teens with the Opposite Sex?"
A common topic the middle school fair were projects about puppies and environmentally friendly practices, but perhaps the most impressive projects were those in which students took their passions and connected it to science. In all, over 400 projects were displayed at the fair.
Bernard Estores, an eighth grader from the North Thurston Challenge Academy, took his love of sports and conducted physics-centered trials on the angles involved in sports (such as at which angle does a punch have the most force?), appropriately naming his project "Pack O' Punch."
During the hours of judging, students listened to their iPods, read books, and nodded off _ and who can blame them, sitting alone next to their projects for a couple of hours _while the various judges made their rounds. Parents waited, anxious and hopeful for their students' success.
With the high school portion of the science fair came greater complexity, though the entrants were fewer. Among several notable high school scientists was Heather Eberhart, a senior in Bellarmine Prep's Marine Chemistry program. Eberhart designed a light trap to study crab larvae, and won first place for her work. She also received the AAUW Outstanding Research award, the NSPE Innovative Engineering award, and the Possibility Realized Award. Eberhart is looking to study medicine at the University of Washington or at the University of Southern California, but "still would love to study marine chemistry."
Other noteworthy projects included topics of energy conservation and recycling, and transforming trash, as well as countless projects about marine and beach life.