Currently Reading:
Homecoming week: Meant to Live
October 4, 2010
Homecoming brings together current students and alumni as part of 'Meant to Live'
When the student-organized Meant to Live program blossomed on the PLU campus in 2004, its mission was a simple one: To bring speakers to campus who can share their vocational journey.
In short, to get them to talk to students about how and why they do what they love. The program was quite a success, and over the past several years, it brought people from a wide array of vocations.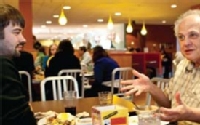 One person, for example, sought to build world peace and global understanding though a non-profit called "Companion Flag International." Another chased tornados. Their stories were as diverse as they were compelling. But the theme was always the same: Live Your Passion.
Or, to put it a different way: to get students to think about what they can do with their one wild a precious life.
Now, six years later, Meant to Live is becoming part of Homecoming. By joining together with Homecoming – when hundreds of successful PLU graduates already come to campus – organizers will be able to take Meant to Live and turn it up a notch.
"What could be a better time to bring alumni and students together than at homecoming?" asked Lauralee Hagen, executive director of PLU's office of Alumni and Constituent Relations.
Her point is well taken. And it seems to fit nicely with a gift that the class of 1958 gave to the university. That gift – almost $107,000 provided by 67 generous alums – sought to endow the Meant to Live program, part of PLU's signature "Wild Hope Project."
"Meant to Live is the convergence of a gift from the Class of 1958 and homecoming, where an alumnus of the university can speak to students about his or her life's work," said Samuel Torvend, project director of the Wild Hope Project and professor of the history of Christianity.
This was the first year that Meant to Live was officially associated with homecoming. Even before the merger, the idea behind the two events focused on the same things: To bring together Lutes from all ages and disciplines, and let them talk about their own vocational passions.
And judging by the group assembled in the University Center on Friday, Oct. 8., the union was a big success.
With this year's homecoming affinity group being graduates of the School of the Arts and Communication, Meant to Live organizers tapped filmmaker and advertising guru Jim Walker '76 to address participants and take part in the first-ever Meant to Live luncheon. There, SOAC students, faculty and alumni came together to connect and converse, listening to vocational narratives and advice from alumni mentors, and alumni will hear about students' current experiences and hopes for the future.
Following the luncheon, Walker, who is currently partner and creative director for Twin Creek Productions and whose work has been recognized from the Cannes International Film Festival to TBS's Funniest Commercials in the World, discussed how his education at PLU contributed to, raised questions about, and provided him with a sense of vocation.