Currently Reading:
PLU debate team heads to worlds
November 11, 2010
PLU debate team heads to Botswana to compete in world championships
When most of their friends are unwrapping their Christmas gifts, Alexis Briggs '12 and Ashley Skinner '13, will be checking their lists, and then checking them twice, and probably quickly re-reading a few back issues of "The Economist" magazine as they head for the airport.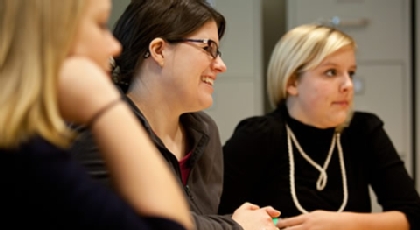 A few days and many hours later, the pair, along with their debate coach, Professor Melissa Franke, will land in Botswana to compete against the world's best in the World Universities Debate Championships.
More than 320 debating teams, along with 150 judges, will converge on the land-locked county's capital, Gaborone, for a week of debate preliminaries. PLU's Speech and Debate Team will be joining other U.S. teams from MIT, Stanford, Harvard and Yale at the tournament. There are preliminary rounds and then 32 teams head on to the finals, all with the goal of dethroning the debate kings from the Land Down Under.
The Aussies? Yes, both woman agree, they are, year after year, the team to beat.
"They are a juggernaut," Franke said. As are the Irish.
Whether PLU places in the finals or not, both women say they can't wait to try out their debating skills on the world stage.
"This gives me an opportunity to discuss topics that otherwise, I may not know about," said Briggs, who added that many contestants brush up on issues covered in The Economist before appearing at "worlds" as the contest is commonly referred to among the debating crowd. Often, judges pull topics covered in the UK-based publication for the contest.
Debate gives one an understanding of the importance of what you say, as well as how you say it, said Skinner, a communications major from Covington, Wash.
Both love hearing issues debated by students from other countries who definitely have a different view of world issues than Americans. Topics pitched by judges (just 20 minutes before the teams take the floor for the contest) include honor killings, partitioning of the Sudan or banning labor unions. Each debater has seven minutes to make their argument before the next team gets a chance to rebut the point.
The debate team from PLU has travelled to the worlds twice before, once in 2008 to Ireland and the other in 2009 to Turkey. PLU has had a team since the 1940s, and it currently boasts 14 members.