Currently Reading:
PLU team heads to Antarctica and then out on to the ice
November 18, 2010
PLU student and prof head to Antarctica for global warming research through study of rocks and ice
In a lab littered with Hostess snack bars and French fry wrappers, geosciences student Mike Vermeulen '12, turns to his computer and pops up a map of Antarctica, then points to a grid in the upper part of the frozen continent.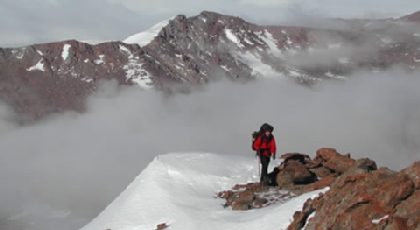 There is where the PLU junior, and his geosciences professor, Claire Todd, will be spending 40 days, including Christmas, as they study deglaciation – or in other words, how fast ice has been melting – over the last millennia.
"This long term look will give us a context of the recent changes we've been seeing," said Vermeulen, who at first thought of becoming a nurse when he arrived at PLU. But his love of rocks and geology soon took over. As a kid, "I'd be the one collecting rocks. Pretty soon I had giant plastic bins filled up with rocks at home," he said.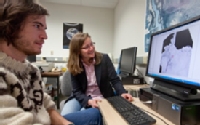 "I really never thought I'd have an opportunity like this," said Vermeulen, 22.
The trip between the PLU campus and Antarctica will be a long one for the pair.
While most of us are digesting our T-Day turkey, Todd and Vermeulen, will be packing their bags and heading out for Antarctica Thursday, by way of New Zealand. Once in New Zealand, the pair, along with three other researchers and a climbing guide, will be studying ice and rocks for clues into long-term global warming that has been happening for thousands of years.
In New Zealand, the pair will be gearing up for their month-long research expedition. On Nov. 29th, fully decked out with cold-weather parkas, they will head out to McMurdo Station – the main gathering point for all Antarctic expeditions and scientific research. Once at McMurdo, they will spend two weeks learning about how to survive on the ice (they'll be living out of a tent, 500 miles west of McMurdo), packing their food, and going over their itinerary for their six-week stay. Joining them on this expedition, which was funded by a $125,000 National Science Foundation grant secured by Todd, will be two University of Washington students, a researcher from the University of California, Berkley, and a mountaineering expert.
On Dec. 12, all six will fly out in a C130 -bundled up and with earplugs – as the cargo plane lumbers over the jagged terrain to the Pensacola Mountains. For the next 40 days, with the exception of Christmas, their days will be get up, eat as many calories as they can, hike up a mountain, take rock samples and go back down the mountain to study what they've extracted. They will have a satellite phone, but plan to use it rarely – they may call their families on Christmas.
They may see a penguin, but probably not. The only creature that lives year-round in Antarctica. A gnat. And in the area they will be? Nothing at all.
"There's literally no life where we are going," Todd said.
And it will be very cold. Though by Antarctica terms, since the group will be there during the continent's summer, it will be positively balmy, with an average temperatures ranging from minus 10 degrees up to 40 degrees Fahrenheit. The sun will never set. The winds can be fierce. Todd remembers that on her first trip to the continent, a wind gust picked her up, with a fully loaded pack, and slammed her into a rock. This will be Todd's third trip back to Antarctica.
This research on the rocks will not only provide clues into long-term global warming, but give a sense of long-term ice pack development and sea-levels. For low-lying communities, this information is critical.
In short, "ice matters," Vermeulen said.
While on their trip, the team will be talking with three elementary schools and Seabury School via Skype. The pair will also be writing a blog about their research during their trip. After more than a month on the ice, the team will head back to McMurdo in mid-January, and finally return to PLU in early February.
Next year at this time, Todd plans to head out on another expedition to Antarctica with another lucky student. And for Todd, yet another Christmas, in a tent, out on the ice. But she wouldn't have it any other way.
University Communications Intern and Reporter Kari Plog contributed to this report.