Currently Reading:
Andrew Reyna '11
December 1, 2010
'I always knew I had the skills to be a doctor. Then I discovered it was my PASSION.'
As a high school senior in Salem, Ore., Andrew Reyna wasn't quite sure what he wanted to do.
He liked science. He was good at it. He asked how could he best use his gifts and talents in this world.
Medical doctor came to mind.
"The more I thought about it," he said, "the more it made sense."
Reyna came to PLU because he knew of its reputation for sending students to medical school. On that score, PLU delivered – the classes were rigorous, and the opportunity to work in the lab with his professors was essential. But that was only part of the equation. Here, he found a passion.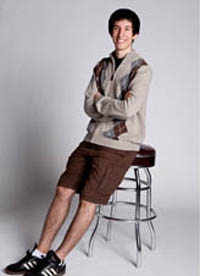 "In the most basic sense it comes down to the Wild Hope project," Reyna said. He speaks of PLU's unique program that encourages students to discover what they are truly passionate about.
"[Being a doctor] is how I feel I can best use my talents and gifts. It's what I'm passionate about – serving people," he said. "I personally believe I have what it takes to be a doctor and wouldn't want to stop short of it.
"You only have 'one wild and precious life,' so I'm determined to make the most of it."
In the summer 2008, Reyna seized an opportunity to serve people – and to discover what kind of doctor he aspires to be. As part of a PLU study-away program, he traveled to Trinidad and Tobago to work in an AIDS clinic with Dr. Raymond Noel.
"There was a different level of appreciation from the people being treated in the states," Reyna said. "It was really profound to experience."
The happiness on the faces of the people Dr. Noel cared for was life-changing.
It was as if no one had ever taken the time to truly care for them, Reyna said.
"That was really eye-opening because I got to see firsthand how much of a difference one person can have," he said. "He didn't just provide care, he cared for them."
It's the kind of doctor Reyna hopes to be. "I really want to have the ability to have a broad impact on people's lives," Reyna said.
It was then Andrew Reyna decided he'd like to work as a rural doctor in an underprivileged part of the world.
"It's just a life goal," Reyna said, "to go out and engage the world somewhere." Right now, he's applying to medical schools. He has the grades and has strong MCAT scores.
"My PLU classes helped prepare me to perform very well on that test," he said.
One thing Reyna has really appreciated at PLU is the connection he's made with a very supportive faculty.
"The classes were challenging," he said. "But I've been able to walk into professors offices almost anytime to ask questions and for advice."
It's not all about class work though, Reyna said. His study away experience in an AIDS clinic certainly taught him that.
Job shadow, get clinical experience and volunteer, he said. It's not about just providing care, but caring for people.
What happens when you think you've always wanted to go to med school, then you find something you love even more? Lauren Thiele '11 Can Tell You.