Currently Reading:
Bank president shares PLU experience
November 18, 2010
PLU alumnus came for the hoops, stayed for the connections
Steve Maxwell, '90, always knew he wanted to be in business, but that isn't what originally attracted him to Pacific Lutheran University.
"I came to PLU to play basketball," Maxwell said. "Of the schools recruiting me, I loved PLU programs, I loved the coach and I loved the campus."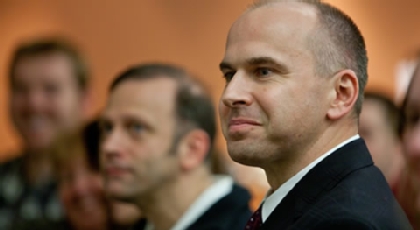 It was basketball that drew Maxwell in, but it was the opportunity to grow that kept him engaged. After more than 20 years in banking, Maxwell is the President for the South Puget Sound District of Key Bank. The skills that got him where he is today, Maxwell said, came from his experience as an undergraduate at PLU.
"There are things I use routinely that are concepts that were introduced to me here," Maxwell said. "It planted in my mind concepts I built my career on."
With a father and grandmother in business and entrepreneurship, Maxwell said an undergraduate business degree was inevitable.
"I grew up knowing I would do something in business," he said.
When he wasn't shooting hoops with the Lute basketball team, Maxwell was participating in business organizations on campus. He said it was the experiences outside the classroom that made the difference in his time at PLU.
"As beneficial as everything else was, the relationships I built here were the most special part of my experience," he said. "PLU just drew an extraordinary caliber of person."
That extraordinary caliber of person followed Maxwell into his professional life, where his college friendships turned into professional competition. He said some of his friends from college now work in executive positions for competing banks.
Maxwell said learning how to build those relationships was one of the most important things he gained from his PLU experience. He stressed that building those skills is important in such a competitive economy, and that fewer people possess that skill set.
"Those kind of skills transcend economies and build big careers," Maxwell said. "Students should focus on building relationships. Hard work and talent are important but a lot of people have hard work and talent."
An internship with US Bank throughout his junior and senior years at PLU brought Maxwell into the professional world of banking. For three years Maxwell said he wasn't sure what he wanted to do, and that was the turning point in his search for vocation.
"The experience brought what I was learning to life," Maxwell said. "It brought real purpose to what I was learning. The light bulb went on."
His internship indirectly landed him a job after graduation. Maxwell was 30 days into an odd job in industrial engineering at Boeing, something he never expected to do, when he received a phone call from US Bank. After an interview and a job offer, Maxwell resigned from Boeing and never looked back.
"In my heart I knew banking was what I wanted to do," he said.
Maxwell earned his MBA from the Vancouver campus of Washington State University while working full time. He was in the banking industry for a decade before deciding to go back to school. Maxwell said PLU inspired him to live a life of continued learning.
"PLU prepared me to enter the workforce, but it also motivated me to continue in my education," he said.
Maxwell's hometown is Beaverton, Ore. and he spent the last decade of his career in the Portland area. Having been back for the last 13 months, Maxwell continues to see positives in PLU and is amazed by the institutional expansion.
"Since coming back I've had a great interaction with the university," he said. "The facilities are marvelous."
In addition to representing Key Bank in the South Puget Sound area, Maxwell serves on multiple non-profit community boards, including the University of Washington Tacoma, Junior Achievement, Pierce County Chamber of Commerce and the Pierce County Economic Development Board. He is an active member seeking to attract business and build local economy, and still finds time to coach youth basketball.
Through his work in the community, Maxwell said he is impressed with the extent that PLU reaches out.
"I'm continually amazed at all the people in connection with PLU," he said.
Maxwell said many people ask if he planned to end up where he has. His answer is a simple one.
"I never laid out a five or 10 year plan," he said. "I looked everyday to make myself better and build relationship opportunities."
Maxwell said if a person sets out to do that, opportunity will come. He said PLU fosters an environment that teaches students those values.
"I had a great experience at PLU," he said. "I would come back and do it again in a heartbeat. I came here to play basketball and discovered a world I never knew about."