Currently Reading:
Who doesn't love penguins?
January 12, 2011
Who doesn't love penguins? Professor to write about relationship between bird and humans.
It's hard to get Chuck Bergman to stop talking about penguins.
And really who can blame him? They're cute. They mate for life, and seem to care for their mates and offspring. They do amazing things to care for the next generation – be it brave the brutal weather in Antarctica or hopping up – and down- sheer cliff faces to make their nests.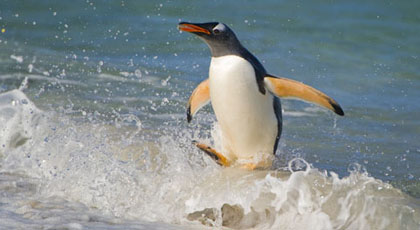 Leaning back in his office, with a penguin cap hanging off his desk, Bergman, an English Professor and self-trained photographer, was recounting – through his photography – his latest trip to study these tuxedoed icons of the south polar seas. Bergman had just returned from the Falkland Islands, 400 miles off the west coast of Argentina to study the birds last November. A year before, in 2009, Bergman spent a month off South Georgia Island, 1,200 miles out from Argentina (earning it the title of one of the most remote islands in the world), again to study these birds who are at both clumsy and sleek, depending on which medium they are observed in.
"Okay, I admit it, I've been bitten by the penguin bug," he said.
His personal goal is to see all 17 species of the world's penguin in their natural environment. "I'm almost afraid to say this, since it will mean some pretty exotic travel and trying to reach difficult environments."
This June, Bergman will again be packing his bags travel to South Africa under the auspices of the Smithsonian Magazine to study the South African Penguin, otherwise known as the Jackass Penguin for the odd braying call it has. Bergman will visit Robben Island (where Nelson Mandela was imprisoned) to study the birds and the largest breeding colony of this species in the world.
"Virtually the entire population of South African penguins is located there," said Bergman of the colony, which is some 10,000 strong.
Bergman will be writing about penguins and their relationship with humans for the Smithsonian article.
"Everyone loves penguins. I don't think you could find someone who doesn't," he said. "They are the most anthropomorphized bird in the world."
It's almost impossible not to interpret what they do, from courtship to preening, in human terms, he said. Their charm is further enhanced by the birds absolute acceptance of humans in their world. While it was almost their downfall in the 19th century, where whales or hunters slaughtered the birds by the thousands for their pelts and meat, it means that now, when humans visit with a more benign purpose, researchers are able to get incredibly close to the birds.
"They'll go up and nibble on your shoes while you're taking notes or photographing them," he said.
Although whales are not hunting them, the birds are still threatened by global warming, environmental degradation and human overpopulation. "They get pushed around quite a bit," he said. "The only thing that they've got going for them is that people love them…that might be their saving grace."