Currently Reading:
New Science Lab Ups Interactive Learning
January 14, 2011
New biology lab an interactive plus for students
The lab tucked in the north side of the Rieke Science Center is all about drywall, dust and stacks of cabinets right now.
But come spring semester, the new Louis and Lydia Sheffels Biology Laboratory, otherwise known as Room #136, will open up to new work stations and new equipment.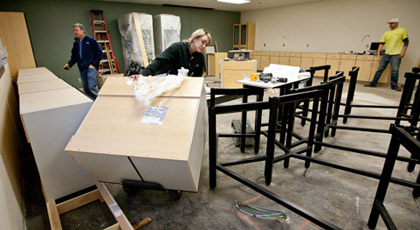 The new 1,100-square-foot lab is thanks to a $100,000 plus donation from Carol Sheffels Quigg, Jerry Sheffels and the Sheffels family as part of the Rieke Science Center restoration.
The lab will be largely used by first-year biology students, said Associate Professor Matt Smith, Biology Department Chair.
Approximately 200 students will be using the lab each year, Smith estimated. The technology-rich lab will come with six portable computer stations and a SMART board. Before the renovations this winter, the only way to instruct the students on correct steps to generate a graph in excel, for example, was to have the professor move from one work station to the next.
The combination of the SMART board, computers station and overhead projector will enable the professor to show how the procedure is done, while students follow along at their own work stations.
Although there will be much new about the labs, one thing that won't change is the student work stations, said Professor Angelia Alexander, Dean of Natural Sciences.
"We won't be getting rid of the best part of the room," Alexander said.
The renovations to the lab began on Dec. 13. The work is set to be completed by the start of spring semester. The Sheffels Lab is the first of several significant projects that are part of the overall Rieke Science Center upgrade. To date, more than $1.4 million has been raised to the overall $6 million goal in Rieke renovations. Future work includes:
Reconfigure interior laboratory space to  support an enhance science instruction and student-faculty research.
Update classrooms
Improve the second floor open lab space.
Update various building infrastructures, such as heating and ventilation.