Currently Reading:
208 Garfield, much more than a coffee shop
January 19, 2011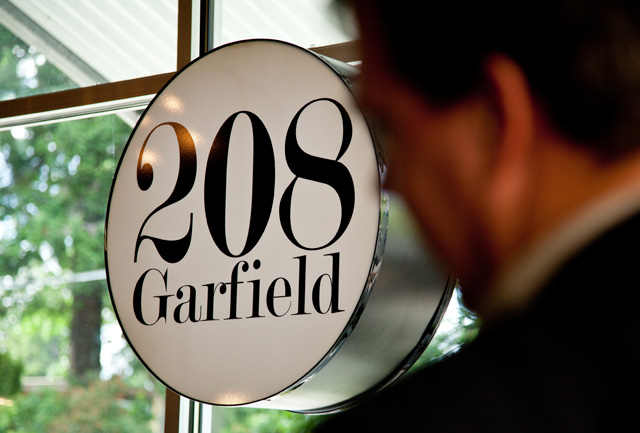 208 Garfield, much more than a coffee shop
There's a new flavor to Garfield Street at 208 Garfield.
It's not all coffee, at 208 Garfield, there's a full menu from fresh made sandwiches, soups and salads (using local products) to smoked Columbia River sturgeon, slow roasted pork belly (provided by Gordon Huesby's '56 Thundering Hooves ranch) and an array of cheese plates. Lunch, dinner, bar and happy hour menus are offered, with selections for individual diners or cheese and meat plates that are perfect for sharing with friends over a glass of wine or beer.  There's also tasty gelato to dive into, covered in sauces like freshly made blackberry sauce.
"It's a full fledged restaurant," said Erin McGinnis '90, director of PLU Dining and Culinary Services. "It's not just a coffee shop."
The PLU Dining and Culinary director isn't one to just slap together a menu either. A 1992 graduate of the Culinary Institute of America, which includes alumni like the Travel Channel's Anthony Bourdain, McGinnis and her team decided each dish would be made from scratch and there would be seasonal changes to the menu.
"We didn't want to use anything out of a bottle (for the food)," she said.
Even the tuna salad doesn't have mayonnaise in it. Actually, mayo isn't used at all in the restaurant. Instead the PLU culinary experts create a spread using a white bean base.
On the counter next to the coffee staples at the café something new can be seen protruding from the counter – taps. Beer and wine taps to be precise. Yes, 208 Garfield, in the location previously occupied by Forza Coffee Company,  has added wine on tap, one of the only places in Washington to offer the newest way to serve wine, McGinnis said. And as far as she knows it's the only place in the South Sound that has wine on tap, with six selections available. And most meals cost less than $10 and can be purchased using LuteBuck$ (LuteBuck$ are not accepted for beer and wine).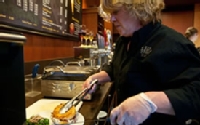 The wine is stored in recycled soda kegs and uses nitrogen to push the wine from keg to glass. The empty space is occupied by nitrogen keeping the wine from oxidizing and fresh for the next pour.
"I think it's a great concept," McGinnis said. "It makes better wine more accessible too."
PLU took over operations of the coffee shop this year, opening the doors to the café this August and adding beer and wine this November.  All of the wine and beer are from Washington and Oregon vintners and brew houses, including drinks from five wineries owned and operated by PLU alumni.
Under PLU's alcohol policy, alcohol is only allowed to be served at the Faculty House, Gonyea House and 208 Garfield. There is a strict ID policy in place at 208 Garfield, so even professors and university administrators better have their ID ready if they want a glass of beer or wine. Wine on tap isn't just about trends either. It's a sustainable practice, McGinnis said. After all, the kegs that are being used were recycled and using soda kegs limits the disposal of bottles and corks. Finding products that are local and provide a PLU connection helps give 208 Garfield its character, she said.
"That was done very deliberately when we were creating the menu," McGinnis said. "We wanted to create amazing dishes using simple local ingredients."
Coffee and those morning pastries (thanks to the PLU bakery) are still on the menu and the coffee is provided by Valhalla in North Tacoma, with selections like Organic Viking and Valkyrie blends. It should fit nicely with the Scandinavian Shop in the Garfield Book Company.
But 208 Garfield is so much more than a coffee shop. The name will become official Jan. 31, with a few more added small plate selections on the menu and new desserts.
"It's a place for people to come together for great food and drinks," McGinnis said.