Currently Reading:
PLU ROTC awarded prestigious MacArthur Award
February 3, 2011
PLU ROTC awarded prestigious MacArthur Award
The PLU ROTC program was recently named a recipient of the prestigious MacArthur Award.
The nation has recognized the program at PLU as one of the top nationally," said Lt. Col. Jason K. Shrader, professor of military science – U.S. Army ROTC.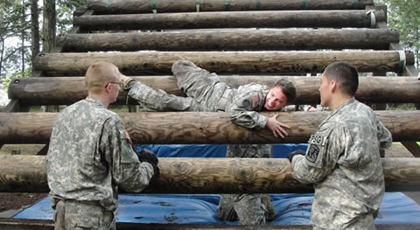 The MacArthur Award is named for General Douglas MacArthur and is handed out each year by the U.S. Army Cadet Command – the parent organization of Army ROTC – in conjunction with the Norfolk, Virginia-based General Douglas MacArthur Foundation.
Each year, one ROTC program representing each of the eight U.S. Army Brigades is named a recipient of the award and represents the cream of the crop of 273 ROTC programs nationwide.
Since 1989, the award has been given annually to individual units in the Army ROTC program. The award represents the ideals of General MacArthur's watchwords of "duty, honor, country."
The PLU ROTC unit represents the 8th Brigade. Nearly 120 students are part of the program.
"We are really the strongest brigade in the nation," Shrader said. "To be mentioned as the best in the brigade is a testament to the cadets here."
The award is based on the performance of all ROTC programs during the previous fiscal year (Oct. 2009-Sept. 2010).
The 8th Brigade often performs at the highest level during the Leader Development and Assessment Course, where programs throughout the nation converge in testing cadets' range of abilities, Shrader said. This class has six distinguished military graduates, he added.
The excellence of the cadets isn't the only thing that marks the unit as tops in the nation, Shrader said. The quality of instruction is very well represented, with the outstanding resource of Joint-Base Lewis McCord just down the street from the university.
"We're seeking excellence whether we're in academics, physical fitness or leadership," Shrader said.
The PLU ROTC unit last received the MacArthur Award in 2001, as part of a satellite campus for Seattle University. The next year, PLU became a host university for the Army ROTC.
In addition to PLU, this year's winners include Texas A&M University, St. John's University, University of Minnesota-Twin Cities, James Madison University, Texas Christian University, Georgia Southern University and Western Kentucky University.