Currently Reading:
Passion for opera leads to the Met
June 13, 2011
Opera star Angela Meade '01 is the 2013 Spring Commencement speaker. The ceremony begins at 2:30 p.m. Sunday, May 26 at the Tacoma Dome.
Angela Meade's dreams come true with a phone call, a bit of luck and a lot of hard work. Alumna wins Beverly Sills Award.
Angela Meade '01 had dreamed of this moment, hoped for it, prayed for it.
But when "the call" came in 2008, she was so shocked, she asked if she could come back tomorrow.
"I still can't believe I said that," said Meade.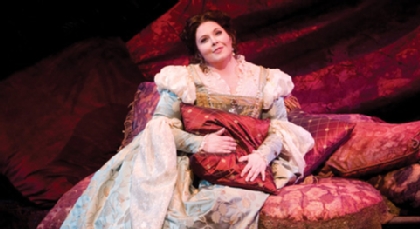 Meade, who graduated from PLU with a bachelor of music, was in her third year of studies at the Academy of Vocal Arts in Philadelphia  when she signed a contract with the Metropolitan Opera production of Verdi's "Ernani." Meade had signed on to serve a "cover" or understudy for star soprano Sondra Radvanovsky, in the role in Elivra, the female lead. On Wednesday, Meade was at the Met to get her costumes fitted in case she had to go on stage. On Thursday, she got the call.
"I had just returned to Philadelphia and was stepping out of a cab when they called me," recalled Meade. "They told me Radvanovsky is sick. Do you want to sing tomorrow night?"
Her response, after asking if she could come back the next day: "Of course!"
The next morning, March 21, Meade arrived at the Met.
"They were scurrying around me like mice doing the final things for my costumes because I had four of them for this production," she said. "I met my voice teacher, and he warmed me up. Then I met with the maestro, Roberto Abbbado, at 6 p.m. and sang through a couple of things for him. Then I had a little dinner, got into my costume and went out on stage at 7:30 p.m. It was the most amazing evening of my life.
"I just couldn't believe this was happening," she said. "I had to pinch myself several times that day."
Meade had worked hard to get to this point. Since leaving PLU in 2001, the soprano had excelled in winning competition after competition. And in January, Meade won the prestigious Beverly Sills Award. But it wasn't an easy or straight path from PLU to center stage at the Met.
Meade had first come to the Big Apple soon after graduation, arriving in the fall of 2001. About a week after she arrived at the Manhattan School of Music, 9-11 occurred and Meade decided that the school she was attending and New York City, for that matter, wasn't for her. She packed her bags and returned home to Centralia, WA.
After working for awhile and pondering her future, Meade decided to pursue her masters in music at the University of Southern California.  She completed her masters in music in 2005, and was in the middle of her doctorate program when she, on a whim, tried out for the Academy of Vocal Arts in Philadelphia. The school accepted her on the spot.
"I called it opera finishing school," she said. "We'd have regular classes until we start to stage our productions. Then all of the classes stop, and we would function like a small opera company."
She then competed in the Met's National Council Auditions in 2007, and this time won, which led to the cover contract… and the rest of her career.
"I  guess you could say, the rest is history," Meade laughed.
Since 2008, Meade has performed in Europe, Baltimore, New York, Dallas and Montreal.
Meade was chosen as PLU's alumna of the year in 2011, and returned home to sing in May to Alban Berg's Seven Early Songs. In May Meade was also honored with the 2011 Richard Tucker Award, conferred annually on a single artist who has reached a high level of artistic accomplishment and who, in the opinion of the panel, is on a the threshold of a major international career. Then a second prestigious award followed this year.
She performed last June at Benaroya Hall in Seattle to Schubert's Overture to Rosamunde, D. 644. T Meade said she had never been exposed to opera before she came to PLU. But once she sang her first aria, that was it. She knew she'd found her passion and her profession.
"I just love the feel of it," she said in an interview when she returned to PLU in May 2011 to sing. "It's so powerful. It's the acting, the singing…it feels like you're singing from your soul."
Content Director Barbara Clements contributed to this report.