Currently Reading:
Engaging faith
July 7, 2011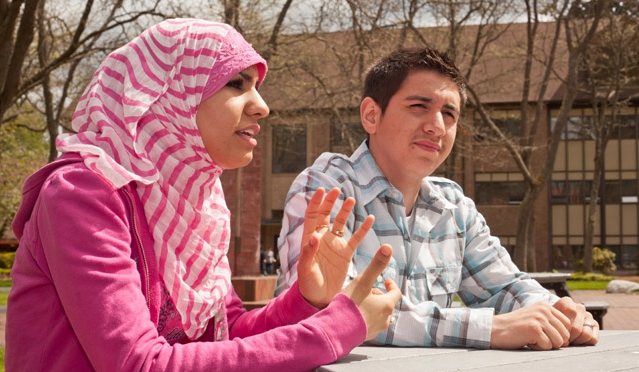 Engaging faith: A Muslim Student's Perspective
The first question that Bashair Alazadi '13 gets from fellow students usually is framed like this: "Do you really want to wear a hijab, or is your husband making you wear it?"Or some variation thereof. But the real answer: It's a choice for her, a declaration of modesty, and also to be taken seriously as a woman, student and professional.
And no, it's not something that her husband, and convert from Roman Catholicism, makes her do, she adds with a smile at Carlos Sandoval, '13, who is sitting across from her at a picnic table in Red Square. Both Alazadi and Sandoval were spending a rare sunny afternoon this spring talking about their efforts to create a Muslim club at PLU this fall, their faith path, as well as their path that led them to PLU in the first place. Both are still trying to decide on a new name for the group, which will be open to people of any faith, who wish to discuss Muslim beliefs, values and how the religion is perceived in the news and around campus. They've decided to name the club the Muslim Association and Allies (PLUMAAA). Umma is the Arabic word for "community." The club will begin meeting in the fall.
"I really think it is important to start a club, there is a lot of misinformation about Islam," said Alazadi. "Our goal is to spread information, not really to convert anyone with this group."
Both see the 10th anniversary of 9-11, and the death of the Osama Bin Laden this year, as a chance to move the conversation about Islam and what it means to be a Muslim beyond stereotypes and the attack.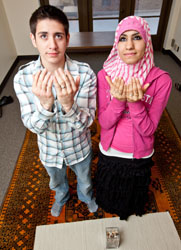 Bashair Alazadi '13 and Carlos Sandoval '13i in PLU's Reflection Room. (Photo by John Froschauer)

Alazadi, 20, a business major, was instrumental three years ago, when she first arrived at PLU, in the eventual the creation of the Reflection Room in Eastvold, where those of any faith or persuasion can find a quite place to reflect. One of the basic tenets of the Muslim faith is for the faithful to pray five times a day, facing Mecca. However, that proved difficult at PLU, since there was not a good place for multiple faiths to pray – a chapel just didn't have the right vibe, and the dorm room was simply too noisy. She eventually made due, but pressed for a place that eventually became the Reflection Room, which opened last year to students. Alazadi's family comes from Iraq, and fled to the U.S. in the1990s, during the Gulf War,  Her parents were initially nervous about her coming to PLU, which they feared would be populated by "white Lutherans." Not quite the case, she discovered. Instead she found a welcoming community.
"This school is very tolerant," said Alazadi, decked out today, in a pink hijab, pink PLU sweatshirt and pink top. Meanwhile, Sandoval, 21, a sociology major, was on his own spiritual journey. He was raised Roman Catholic, but, he admits, not a committed one. And the only thing he knew about Muslims at the time was what the media had portrayed of Islam – the constant image of the twin towers and the actions of terrorists. When Sandoval first saw Alazadi, he and approached her saying "he thought only Ethiopian girls wore scarves." Not exactly the best pick up line, he laughs now. But it started the conversation between them. The friendship that developed eventually led to Sandoval converting to Islam two years ago, and the two marrying last year. Sandoval's family was initially skeptical, but has accepted the couple.
"I had to point out to my mother that the Virgin Mary is always wearing a head covering," he said.
Back to the hijab question. Alazadi said that some of her Muslim friends wear a hijab, some don't. The Koran stresses modesty, not a veil, she said.
"That's a question that's between each individual and God," she said.