Currently Reading:
To succeed: 'Be persistent, be passionate'
July 7, 2011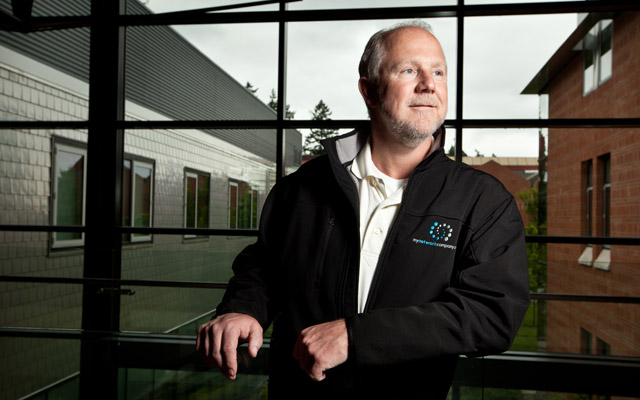 To succeed: 'Be persistent, be passionate'
Darrel Bowman's best advice to graduates who are facing one of the toughest job markets in a generation is the same advice he gave himself when he was first starting out: Be persistent, be passionate. That, and always show up mentally and physically to do your best. These traits have stood Bowman '87, in good stead as he's developed his business, mynetworkcompany.com, a tech support firm for companies, over the last decade.  Bowman recently travelled to Washington D.C. to accept the national SBA Veteran Small Business Champion Award for 2011 in May. This award followed the Veteran Small Business Champion for Washington State and Region 10 earlier in the year and last year.
"I try to make sure that all my employees have these traits," said Bowman, who served in the Coast Guard for four years as an aircraft structural mechanic and C-130 Loadmaster after graduating Washington High School in 1977. "That's tenacity, perseverance and passion."
And every vet, he adds, "has a degree in getting stuff done.
"I've never had a problem with any vet I've hired," said Bowman, who received a business undergraduate degree from PLU. Bowman credits his PLU training, especially in grooming the entrepreneurial spirit, in finding his first internship at Tacoma's Metro Parks, and then joining his current company in 1999, which was then called AppTech, before Bowman took over the company and changed its name in 2005.
Bowman is also actively involved in his community and veterans' affairs. He advocated for new legislation promoting the use of veteran and service-disabled, veteran-owned businesses as a percentage of the contracted services in Washington state government. Senate Bill 5041 established a veteran-owned business registry which quickly became the veteran business "yellow pages."
Bowman has authored several curricula for college technology programs, and serves on Congressman Adam Smith's Technology Advisory Council, and chaired the South Sound IT and Emergency Technology Skills Panel.