Currently Reading:
If you want a snack or full-blown meal…
August 10, 2011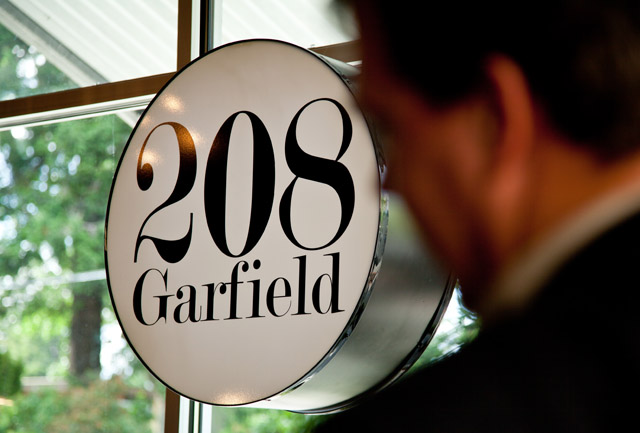 Garfield Street has a ton of eating options, like 208 Garfield, with fun for the palate like small plates and big treats. (Photos by John Froschauer)
From late-night snack to early-morning breakfasts, you'll find places a plenty to eat at PLU
You've decided it's time for dinner, or a late night study break. But where, exactly, can you find a meal or some snacks?
Pretty much at any time, there's food to be found around PLU. For you early morning risers of the crew team or joggers, there's a place to eat for you, as well as a place to nosh if you want a late snack. Here's a quick rundown-
The Commons in The University Center is the main dining hall on campus. This is where you'll come for your unlimited, all-you-care-to-eat meals, Sunday brunch and Sunday-Friday dinner. You will also find lots of great á la carte choices for lunch and this is the source for a hot, home-cooked breakfast.
Garfield 208  is not all about coffee. There's a full menu from fresh made sandwiches, soups and salads (using local products) to smoked Columbia River sturgeon, slow roasted pork belly and an array of cheese plates. Lunch, dinner, bar and happy hour menus are offered,with selections for individual diners or cheese and meat plates. LuteBuck$ are accepted. Yum!
Tahoma Bakery & Café in the Columbia Center building on lower campus. Get a sandwich for lunch and a sweet treat made fresh. For dinner you can use your Dining Dollars or, if you don't make it to The Commons by 7:30 pm, you can visit us here for Supper Hour from 7:30 pm-8:30 pm where you can use your all-you-care-to-eat feature to get one dinner package.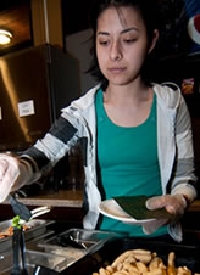 The UC offers full service and unusual meals throughout the day, and night.
Old Main Market in The University Center is the place to go for a quick breakfast or lunch using your Dining Dollars. We're open 'til midnight every night (1 am Friday & Saturday), to satisfy that late night craving while you're studying.
Kelley Café in The Morken Center is where you can get espresso, sandwiches, salads & snacks conveniently between class.
Espresso Cart on upper campus in Hague Administration will keep you full of caffeine and you can get a sandwich or muffin for some quick snacking.
If you feel like you might have to miss a meal due to a sports practice or a job,you can let dining services know 24 hours in advance, and they will have a meal to go prepared for you. Erin McGinnis '90, director of PLU Dining and Culinary Services, suggests that commuter students might want to consider purchasing LuteBuck$, versus a meal plan, since LuteBuck$ can be used at the Garfield Book Store (for other things besides food), Garfield 208 and Farrelli's Gourmet Wood Fired Pizza off of Garfield Street.
If students have any dietary concerns, they can contact Dining Services as well as check out PLU's many meal plans.