Currently Reading:
Convocation
September 6, 2011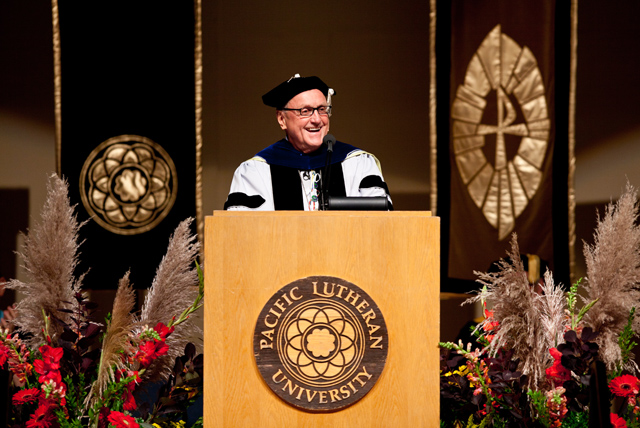 President Loren J. Anderson gives his 20th Convocation address, opening the 122nd year of PLU.
Convocation 2011: "Lead Boldly"
President Loren J. Anderson welcomed students – new and returning, faculty, staff, regents, PLU corporation representatives and local ELCA clergy to the opening of the 2011-12 academic year.
He challenged students to "learn well, serve gladly and lead boldly," in his 20th and final PLU convocation address.
"Each year on this day it is my privilege to frame our hopes for the year ahead, to encourage your full engagement in the learning process, and also to challenge your imagination as you begin to envision,  and then to build a foundation for your future," Anderson told the crowd who packed into Olson Auditorium.
Only one percent of the world's population receives a college degree," Anderson noted, adding that the new Lutes gathered in Olson have the rare privilege to study and then go out into the four corners of the globe to change the world.
He also reminded the incoming first-years of others who have sat in the same seats in past decades, such as Brad Tilden '83, the president of Alaska Airlines, Seattle Parnell '84, Alaska's governor or Joyce Barr '76, Assistant Secretary of State for Administration.
More than 1,000 incoming first-year, transfer and graduate students will join a student body of 3,400 total students.
"The mission of Pacific Lutheran University is to educate students for a life of thoughtful inquiry, service leadership and care – for other persons, for our community, and for the earth," Anderson said.