Currently Reading:
A blast of reality from the desert
September 15, 2011
A blast of reality from the desert
As the rear doors of the airplane dropped, the white light of Iraq's desert sun blinded Ed Hrivnak '96.
The wave of heat over took his senses and focusing took a minute.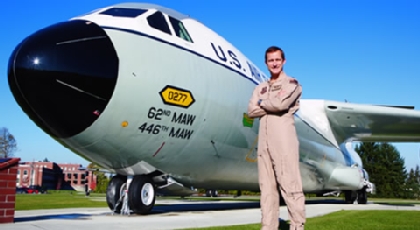 When the fog cleared, he saw it. A line of vehicles carrying injured United States military personnel.
It was April 2003, the first onslaught of Operation Iraqi Freedom. Hrivnak was part of an Air Force medevac unit charged with caring for U.S. casualties.
It wasn't the first time Hrivnak had been in a combat zone. He had been in peacekeeping missions in Somalia, Rwanda, the Balkans and the first Gulf War. But this time, the experience hit him differently. In the first Gulf War, he had memories of a quick deployment, and few casualties. That first medevac mission in 2003, when his senses were muddled, and then came into focus, he knew things had changed.
This fall, during Homecoming 2011 at PLU, Hrivnak will return to the campus as a panelist during the 60th anniversary celebration of the School of Nursing. He'll talk about his passion for patient care, his experience as a medevac and his journey as a writer. His experience outside of the military includes being an emergency room nurse and today he works as a firefighter for Central Pierce Fire and Rescue.
He began writing about his experiences – what he saw and who he met. It was a way to deal with it, not just as a form of coping, but also out of a necessity to have his voice heard. Hrivnak was frustrated by what he saw on the news about the war. It didn't tell the whole story. A ticker would go across the screen stating that 10 U.S. soldiers had been killed that day, but for him it seemed so hollow of an explanation of what had happened.  He knew that the 10 to 1 rule was usually in play, when the dead were listed, which meant for every one killed, 10 were injured.
This wasn't going to be in and out, like his last tour in Iraq, he remembers thinking. This is going to take 6 to 10 years.
"And my worse fears have come true," Hrivnak said recently. "Are we going to be able to say we were successful in Iraq? I don't know."
But that doesn't take away from the sacrifice he saw from men and women in the armed forces. It is part of why he was drawn to writing about his experiences. He needed to show those sacrifices, beyond a news ticker.
"That was a huge motivator, the sacrifice I saw," he said.
So he began writing emails home to friends and family. The emails began to circulate and before he knew it, traction had built with people wanting to read about what he saw. Those emails became a journal of his stories. He sent one to Veteran's of Foreign Wars magazine that was asking for first-hand experiences. There were more than 3,000 submissions and 86 were published in 2006. One of the submissions was his. That led to some of his journal entries being included in the book Operation Homecoming: Iraq, Afghanistan, and the Home Front in the Worlds of U.S. Troops and Their Families (Random House, 2006).
A few of Hrivnak's journal entries also appeared in the New Yorker in 2006.
Subsequently, a few of the entries, including his, were made into the documentary Operation Homecoming: Writing the Wartime Experience (2007) which went on to be nominated for several awards. It was nominated, but didn't win, for an Academy Award for Best Documentary in 2008.
While touring in support of the book and then the documentary there was one thing that stood out to him, beyond the whirlwind excitement and a certain amount of star treatment. Mothers who had their sons or daughters killed in action would come up to him and thank him for telling his story.
"Honestly, I didn't know what to say," he recalled. "I felt this mother had sacrificed their son or daughter and what had I done? It seemed so trivial in comparison."
It provided a constant reality check while he was promoting the book and documentary.
"It puts into perspective of who you are and what you've done," Hrivnak said. "It really makes you think about the sacrifices people make and brings me back to why I wrote it."
He wrote the notes of his first entries on medical tape, strapped to his leg while in the field. He's thankful he wrote those moments down at the time. In many instances, time has dampened the painful memories while the friendships he built stand out.
"I'm glad I wrote then because time has tempered the experience," he said. "It would be different now. I don't think I could do it justice today, if I had to write it from scratch."
The outcome of his writing hasn't stopped in the pages of publications or in the broadcasts of the re-telling. It wasn't long after his stories were known that the military tapped him to explore what troops were really experiencing. Too often the well-trained men and women of the armed services would let the horrors of war slip to the wayside and say everything was okay once they returned, he said.
Out of that, he was asked to interview returning service men and women on how the military deals with returning soldiers. He reported his findings to the Department of Defense and is pleased to have seen some training changes take place.
"I actually saw some positive outcomes," Hrivnak said.
He still gets emails now and again from people who served in Iraq. One stands out in his mind. A Belgium medic who was embedded with a unit told him how important his stories were to him. They spoke the truth, the medic wrote, adding that he recalled how he had been trained well on the mechanics of working on wounded soldiers in the field, but he had never been ready to hear the voice of his friends screaming, "Don't let me die."
By writing, Hrivnak has brought to light some of those details that make such a difference in a place that is as disorienting as a sudden exposure to the desert sun.