Currently Reading:
Alaska governor and Lute visits campus
September 16, 2011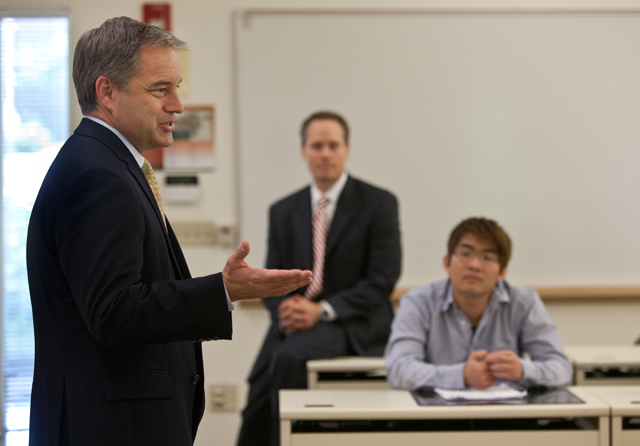 Alaska governor urges students to be "gazelles" of business and think independently
Looking around Assistant Professor Kevin Boeh's financing and entrepreneurship class, Alaska Governor Sean Parnell '84 declared he was looking at future gazelles. At least he hoped that was the case.
He urged the 15 students gathered in a Morken classroom last week to figure out what questions and problems their future employers will face, and then offer up solutions to their bosses without being asked.
"There's a stereotype that the 19- to 27-year-old age bracket has a tendency to show up to work and then wait around to be told what to do," said Parnell. "If you think about this question 'What does my company need?' you'll be miles ahead of your peers."
And that is what will make one a "gazelle" in business, "even if you're not working for a company that is considering an IPO," he said.
"It doesn't take an eBay to fulfill all your dreams," Parnell added. But it does take determination, creativity and the willingness to take calculated risks in whatever; job or venture one decides to undertake, said Parnell, who graduated with a business degree.
Parnell, along with his wife and fellow alum, Sandy Parnell '84, made a brief swing through PLU last Monday to talk to business classes – Sandy Parnell spoke to associate professor Susan Harmon's consumer behavior class – and meet with students from Alaska at an afternoon reception.
The Parnells were in the Seattle-Tacoma area to talk about trade opportunities between Washington and Alaska.
Since he took office in 2009, Parnell said he's tried to make Alaska more business friendly and help the state develop its natural resources, without destroying the environment. Parnell said, in response to a question about oil reserves, that he doubted the nation would shift away from fossil fuels for its main energy needs any time soon. But that said, he does see a time where natural gas will be just as valuable to the U.S. as oil. And the oil from Alaska gets better marks for being green than almost anywhere else in the world, he noted.
"We don't want to spoil our own nest there," he said of his home state. "But I think it's better that we get our oil from Alaska rather than from Brazil or the Middle East."