Currently Reading:
Remembering Norway
September 23, 2011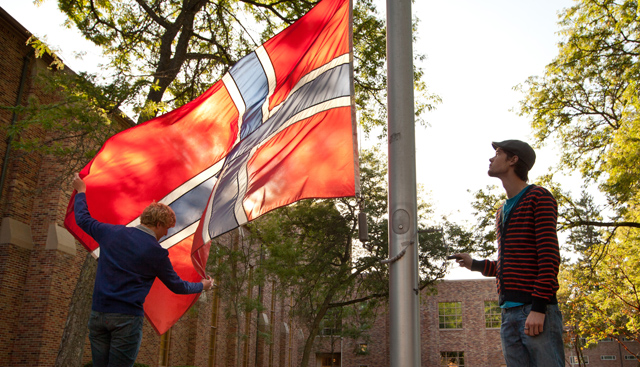 PLU professor remembers Norway's peaceful response to attacks of terror
By Katie Scaff '13

The dignity and resolve of Norwegians should never be forgotten, according to a PLU professor who was in Norway at the time of the July 22, 2011 attacks in Oslo and on a nearby island.
"For a small nation like Norway," said Claudia Berguson, associate professor of Norwegian and Scandinavian area studies, "the responses seemed natural and anything but naïve."
The Scandinavian Cultural Center and the Department of Languages and Literatures sponsored Berguson's lecture, "My Little Country': Norway's Responses to Terror," on Tuesday, Sept. 19, to honor the lives lost and provide insight into Norwegian responses to the acts of terror.
"The summer became more than what any of us had imagined," she said of the attacks.
Berguson was in Norway teaching at an international school on the day a right-wing extremist bombed government buildings in Oslo and, a short time later, massacred young people attending a political party youth camp on the island of Utøya.
Berguson shared photos and video from the moments and days following the attacks to help recap what happened from a firsthand perspective.
"What perhaps could not be fully captured in the media was the profound silence," Berguson said. "Violence of innocent people at the hands of extremists affects us all."
The attacks made Norwegians ask who they are and what they wanted to become, according to Berguson. In the days after the attacks they chose to focus on their identity rather than fear and revenge. It was a time for self-reflection.
"I had to suspend my working cultural codes," Berguson said.
She was taken aback when complete strangers would strike up small talk with her.
"These short conversations were not part of any experiences I had ever had before," said Berguson. "In the days and weeks to follow it became important to listen and observe."
She recalled how a month after the attacks, Norwegian Prime Minister Jens Stoltenberg said, "bake a cake, go for a walk with them."
"He didn't think it was funny at all, he said this is what you do is these types of situations," Berguson said.
"I think the openness is very much a Scandinavian characteristic," said Berguson.
Some attendees, like junior Sachi Williamson, said they found Berguson's talk informative.
"I wasn't really too knowledgeable about what happened," Williamson said. "It was really significant that they were just able to come together."
For others, however, the experience meant more.
Junior international student Torhild Skillingstad fought back tears after seeing one of her Norwegian neighbors in a photo in Berguson's presentation. Skillingstad, who was in the United States at the time of the attacks, said Berguson's lecture provided an opportunity "to process everything that had happened." Skillingstad was among a group of students who set out sheets of paper for lecture guests to share their condolences.
These messages will be assembled to create a Norwegian flag for display.
"People have choices in how they respond to terror," Berguson said. "Lasting impressions for me will always be dignity and resolve."