Currently Reading:
The Limited Gift of Water
September 30, 2011

Featured speaker Benjamin Stewart, a professor and chair at the Lutheran School of Theology in Chicago, gives the example of the Chicago River as a waterway that is viewed in a different light by varying parties.(Photo by Igor Strupinskiy '14)
The deep and powerful flow of mercy and justice. A debate on water in today's world
By: By Barbara Clements

Evidence of water as a force for destruction can be easily found, both in the headlines and the Bible. There are the floods, Hurricane Katrina and tsunamis that wipe out thousands of lives in a single deadly surge. But there are also the waters of mercy and hope, argued Benjamin Stewart, a professor and chair at the Lutheran School of Theology in Chicago.
And the flood of mercy is a stronger force – in nature and in the world of the divine, Stewart added.
He urged those attending PLU's first Lutheran Studies Conference to become their own "flood of grace, which washes over a wounded creation," refusing to stop until justice is served – citing the case of the BP oil spill in the Gulf of Mexico, which continued the cleanup long after the television crews had gone home.
"I really do believe the flood of grace is deeper, stronger, than the floods of destruction," Stewart said. And how we view water, or the "metaphors by which we view water," matter, he added.
Giving his first example, Stewart cited a controversy surrounding the Chicago River, which flows through his home town. Big businesses regard the waterway as everything from an open sewer to a drainage canal, he said. Recently, though, the EPA has taken a different view.
The agency views the waterway as a river, and wants it cleaned up to EPA standards. And a bunch of  kayakers have begun paddling around the river, in support of the EPA mandate.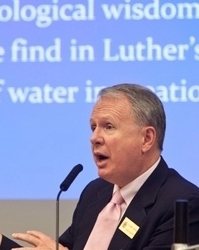 "Metaphors matter," Stewart said. "And they determine how we interact with bodies of water."The conference focused on how different theological leaders,as well as social activists have viewed water over the centuries. Samuel Torvend, Professor of Lutheran Studies and conference moderator, noted that while Martin Luther didn't speak directly to water resource issues, Luther was keenly aware of using resources for the social good of all.
In about 1530, Luther wrote that all of creation mirrors God's grace and abundance. All of creation "is a robust form of communication between the creator and the creation," Torvend said.
In many places in the world, water has become the new oil, as different interest groups fight over it, with devastating results, noted Kevin O'Brien, assistant professor of Christian ethics. The war in Darfur has its roots in a water fight between farmers and wandering tribesmen, he noted.
"Lack of water has already caused tragedy in the world, and Christians should pay attention to this," he said.
Citing the lives and writings of civil rights and religious activists such as Dietrich Bonhoeffer, Martin Luther King Jr., and Cesar Chavez, O'Brien noted that all three men spoke out against wrongs they saw in their worlds.
Christians and non-Christians alike must put aside an "us and them" mentality and reach out to those who suffer – be they human, or the other creatures that share this world, he said.
"The basis for peace is respecting all creatures," said O'Brien, citing Chavez. "But as human beings, we have failed to take care of all creatures, and as Christians, we know we can do better than we've been doing," in this regard.
Rose McKenney, associate professor of geosciences, noted in her presentation that as the population grows, there is very little water to fight about. Of all the Earth's water, only a small fraction – 2.5 percent – is fresh, and of that, only about .3 percent is available for human, plant and animal needs.
The key questions facing humans, as well as the residents of Pacific Lutheran University, revolve around "can we use the water and then return it back as clean water," she said.
Then there are choices that an individual can make. Bottled water, or tap, for example. In the last few years, PLU's Sustainability Committee and student groups have pushed for students to eschew bottled water – and the resources used to make the plastic – in favor of tap water and reusable bottles. Then there are hidden water choices.
It takes 37 gallons of water to produce one cup of coffee. It takes 1,860 gallons of water to produce one pound of beef.
Individual choices, she noted, do make a difference.