Currently Reading:
dCenter 'emerged' as a resource for students
October 7, 2011
dCenter 'emerged' as a resource for students, fun place to hang out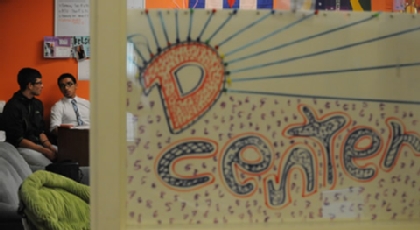 For many, like senior art major Chelsea Putnam, PLU's Diversity Center is a place to foster one's individuality."I really wanted to learn and gain my own individuality with this place," said Putnam.
Initially though, Putnam didn't really understand what social justice was."It was a culture shock for me," Putnam said. "I came from a community that was a very small town. I lived in a very white Hispanic culture and I didn't understand the world as a whole. I didn't understand what it meant to be a world citizen. I was very sheltered."
Fast-forward three years, and now Putnam is a beginning her fourth year involved with the Diversity Center as a Rieke Scholar.
"If it weren't so involved here I would have been fully and 100 percent involved with track, and I wouldn't have changed my major to art," Putnam said. "I would have just stayed in my very independent leadership role through track and other sports. I came here intended to study exercise. It really changed my path being up here and working with these people."
But the Diversity Center hasn't always been the resource for students that it is today.
When the center began in 2001, it had a lot of programs that resembled Diversity 101, said Eva Johnson, Dean of Student Development and Director of Student Involvement and Leadership.
The intent was for students to learn about different cultures and start conversations about diversity.
"We spent a lot of time kind of emerging," Johnson said.
Each year though, the center has added programs and activities to meet the changing needs of its students, and its made significant strides since its inception in 2001.
"The PLU community became much more engaged in learning about diversity and not just the celebration of diversity," Johnson said. "It allows then for the programs to evolve to more than just this festival—to talk about things like privilege and power."
Over the last 10 years, students are coming to PLU with greater fluency for talking about diversity issues, Johnson said. They are more engaged in these conversations and are able to look at diversity as related to many other issues.
"What we are comprised of now has been at its strongest for about five years," Putnam said. "It's taken a lot of time and effort."
Like Putnam, senior Lou Vargas is also a Rieke Scholar who has been actively involved in the Diversity Center since his freshman year.
"Without the Diversity Center I wouldn't understand my struggles that I'm going through right now, I wouldn't know myself as a person," Vargas said. "I wouldn't know anything about my identity without the D-Center."
Through the Diversity Center, Vargas found his vocation.
"This is where I belong or at least where I ought to be," Vargas said. "We have similar interests, we have similar struggles, we have similar rhetoric's of understanding, we share a lot of things. We share that same vocation."
What makes the Diversity Center unique from other places on campus is its mission, said Johnson.
"It's a vibrant and thriving community," Johnson said. It has a "mission to serve whoever walks in the door wherever they are at. This place will be welcoming and inclusive to you."
The Diversity Center serves students through programs, conversations, retreats, direct one on one mentoring, and partnerships with other offices and departments on campus.
The center will continue to evolve to accommodate the needs of PLU students.
"Wherever the diversity ends up in 10 years will be greatly influenced by the campus community's understanding of diversity," Johnson said. "I think that 2020 is going to play a large role, as well as who makes up our campus community."