Currently Reading:
Passionate about service
October 7, 2011
Meant to Live: Keynote speaker shows a passion for service and nursing
By Barbara Clements
When Charleen Tachibana, '77, first stepped on to the Pacific Lutheran University campus, she knew she had found a place that felt like home. Tachibana had moved out to the Northwest from the Midwest when she was 13 years old.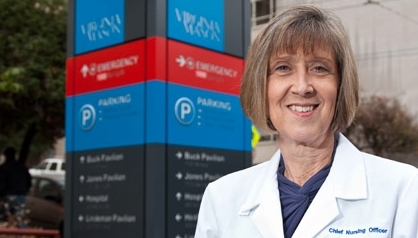 The fit was a bit awkward, Tachibana remembers, taking a break from her busy day as senior vice president and chief nursing officer at Virginia Mason Hospital and Medical Center in Seattle.
"It was amazing on campus, and it was wonderful," she said. On campus "it just felt like home, it was friendly, people smiled…it wasn't what I had experienced my last six years in junior high and high school."  Her time at PLU, Tachibana adds, was simply a time to grow up. PLU's nursing program was largely self-paced then, and taught her discipline and focus.
"That is huge when you get into life," she says, "you need to know how to manage your life  without your parents telling you what to do."
Tachibana is the keynote speaker at the "Meant to Live" program during PLU's Homecoming 2011, which begins on Tuesday and runs through Sunday, Oct 16. When she graduated with her nursing degree at PLU, Tachibana then started as a nurse at Virginia Mason – a hospital where she would spend her entire career.
"I was blessed in finding an organization with a value system that matched my own," she says. "This job is my vocation, and I haven't had any reason to move on to another organization."
After starting work at Virginia Mason in 1977, she rose through the ranks until she reached her current position in July 2007. As the chief nursing officer, Tachibana oversees 1,000 nurses, providing support so they can do their jobs. Tachibana has taken several trips to Japan to study their management techniques, and has returned to Virginia Mason more energized than ever.
"Those trips had a huge impact on my leadership journey,"she says. The Toyota system focuses on a fast-paced work environment, but also one where leaders are expected to be open with their employees.
And advice for newly-minted nurses? Prepare yourself for change, Tachibana says. In fact, embrace it. "You have to keep your mind open to what society needs and to learn new things," she says.
Looking back as to why she entered nursing, Tachibana, 56, says she actually started thinking about nursing as a career during her senior year in high school. She knew she wanted a career and healthcare and nursing seemed to fit.
And since Tachibana loved to study, and loved working with people, becoming a nurse and going to college – the first in her family to do so – took hold.  It didn't take long before Tachibana discovered that this was her life's passion. Still, she didn't realize the impact nursing could have on an individual's life until she began working closely with patients.  Nursing has a tremendous opportunity to impact the lives of others by offering support and care at their most vulnerable moments, she said.
"It's kind of what keeps me going."