Currently Reading:
Career Expo coming to campus
February 24, 2012
Career Expo coming to campus
Networking and making connections with employers early is key, according to senior business major Nikki Noble.
Noble went to the Fall Internship and Job Fair in October with a few resumes in hand and came away with an offer to intern with Target this summer.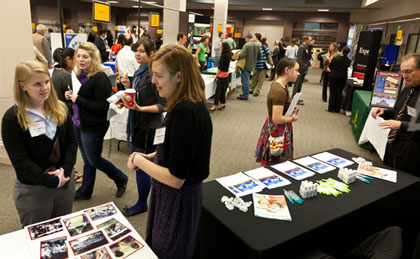 "It was just such a good experience overall," Noble said. "We got dressed up. I went to a resume workshop. I did my research beforehand."
Noble gave her resume to the Target representatives and sent a follow-up email after the fair.
"Someone from a local target called me," Noble recalled. "We went through a whole in person interview. I had a phone interview with a district manager, then, I had another store interview with another in store manager. Then, I had an interview with the regional manager. Then, I was offered the internship."
While Noble is looking forward to her internship this summer, she has one small regret: "I wish I would have done it earlier or sooner in college."
"I didn't know what to do or how to do it," Noble said. "Now, I'm realizing that I should have done it sooner. I think you just need the experience of going and talking to professional people"
PLU is hosting a Career Expo this spring from noon to 3:30 p.m. Wednesday, March 7,  in the University Center's Chris Knutzen Hall. Noble encourages everyone to go, whether you're looking for an internship or job, or just trying to network.
"Its just so important for your future," Noble said. "It's really good to get your people skills out there."
Employers, like Lauren Snyder, Human Resources Coordinator for Medical Consultants Network, agree.
"I think it's good to have the experience of actually talking with employers," Snyder said. "They could even establish a relationship with a company so when they do graduate they can follow-up and maybe have a position."
Snyder and her company got involved with the Career Fair in the fall and said they are looking forward to coming back for the Spring Expo.
"We're hoping to find more great students for some of the open positions we have now," Snyder said.
Medical Consultants Network hired PLU graduate Daniel O (pronounced "Oh") after the fall fair because they were so impressed when they met him.
"He was extremely professional," Snyder said. "He was really well dressed, approached us. We just really liked that he had done the research and knew what position he was interested. Right away we said we wanted to bring him in for an interview."
Target and Medical Consultants Network representatives will be back at this fair, in addition almost two dozen other employers, including Nordstrom, Franciscan Health System, and World Vision will be on hand.