Currently Reading:
Exploring food issues
February 24, 2012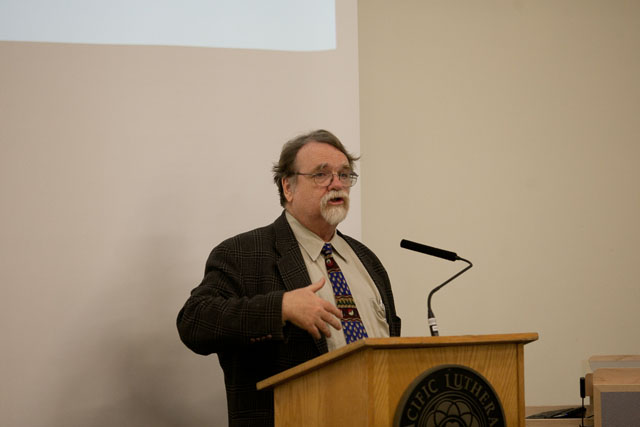 Exploring food issues
By Katie Scaff '13
Food intersects with just about any social justice issue you're interested in, according to PLU Philosophy Professor Erin McKenna.
McKenna was one of more than a dozen experts and enthusiasts who shared their knowledge with PLU and the greater community during the two-day Food Symposium presented by the Philosophy Department last week.
The symposium began with a series of sessions for the symposium's presenters on Feb. 20. They started the morning with a discussion on a variety of food topics, including organic agriculture and food system sustainability, supporting local farmers and achieving changes in the food system, and food costs.
Among the presenters was an array of PLU students, staff, and professors, and community members, with a variety of food interests, including Danielle Palmer, President of PLU's Food Club, Justin Lytle, PLU Assistant Professor of Chemistry, and Holly Foster, owner of Zestful Gardens.
"The fact that they could talk all morning – it showed that common interest in food that was binding them," McKenna said.
After the morning roundtable, the group toured Dining Services and spent the afternoon in a hands-on cooking lesson from fellow presenter Glenn Kuehn, Assistant Professor of Philosophy at the University of Wisconsin in Marshfield/Wood County.
Kuehn, who is particularly interested in food aesthetics, also led a presentation on Tuesday, when the symposium sessions opened for PLU and the greater community. His talk, entitled "Cooking and Love: Why No One Can Ever Cook Like Grandma," was part of a session on food passions.
Other sessions on Tuesday included topics, such as the chemistry of farming, how to know what goes into your food, and feeding the public.
The two-day symposium ended with a keynote address on three problems in food ethics from Paul B. Thompson, the W.K. Kellogg Chair in Agricultural, Food and Community Ethics at Michigan State University.
About 50 students, staff, professors, and community members turned out for the event, including junior Political Science and Global Studies double major Kenny Stancil.
"Food is just one of my general academic interests," Stancil said. "I was intrigued when he pointed out both Singer and Sen's frameworks for thinking about food ethics."
While the conference ended Tuesday night, McKenna said the conversation is just getting started and she's seeing partnerships forming between those who came out for the symposium.
"Food isn't just about feeding people," McKenna said.