Currently Reading:
Kelvin Adams – Bachelor of Science in physics, minor in mathematics
June 15, 2012
Kelvin Adams '12, explains his capstone – a trebuchet. It's all physics for this Lute as he prepares for the next chapter in his life.
Kelvin Adams – Bachelor of Science in physics, minor in mathematics
Compiled and edited by Chris Albert – news editor; video by Katie Martell – video producer

This past Spring, Kelvin Adams '12 graduated from PLU. Before he left for the next chapter in his life, he shared his thoughts about what brought him to PLU, his experience here, and what's next in his life.
The physics major, also shows off his capstone in the video above – a trebuchet.
Why PLU? I came to PLU because I wanted to be a Lute! The sense of community at PLU was head and shoulders above every other school I visited, and I wanted to be a part of this community. I was also drawn to the fact that at PLU you have access to professors who are truly invested in your education and who even show up to events around campus like concerts and games!
PLU offered the opportunity for me to simultaneously pursue my passion for engineering and my love of music, and I just could not turn down an opportunity like that.
My PLU experience: Adventure, growth, friends, Frisbees, The Big Bang Theory, music, and trebuchets. Over my four years I have grown as a student, musician, scientist, human being, and global citizen. I have learned the value and importance of community from my friends and mentors in the alumni office, the physics department, choir, and my classes.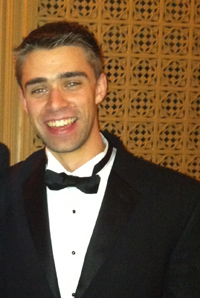 I also am incredibly blessed and grateful for my four years in PLU choirs, which have taken me on a journey I could never have dreamed of, including a tour to Germany and France last summer with the Choir of the West. And, of course, no engineering education is complete without the construction of a trebuchet. All of these experiences are integral to who I am today and I would not trade them for the world.
What's next? I will be attending Oregon State University in the fall to finish my dual-degree engineering program through their multiple engineering cooperative program. After my time at OSU I hope to either work in the field or move on to graduate studies in engineering. I also am really looking forward to my role as one of the class reps for 2012 along with Caitlyn Jackson, and hearing from fellow classmates about the exciting news in their lives after PLU!