Currently Reading:
Four PLU students receive Fulbright Student Fellowships
June 19, 2012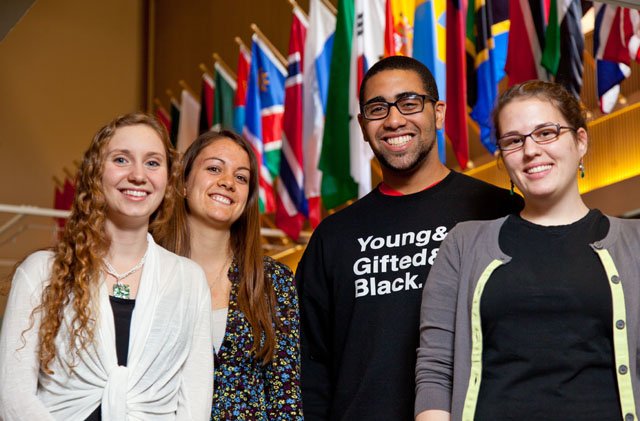 Four PLU students receive Fulbright Student Fellowships
By Chris Albert
This year, four PLU students – Carolyn Hylander, Caitlin Walton, Gretchen Elyse Nagel and Mycal Ford – received prestigious U.S. Fulbright Student Fellowships.
That makes 91 PLU student Fulbright recipients since 1975. Sponsored by the U.S. Department of State, the Fulbright program was established in 1946 by the U.S. Congress to "enable the government of the United States to increase mutual understanding between people of the United States and the people of other countries."
It is the largest U.S. international exchange program offering opportunities for students, scholars and professionals to undertake international graduate study, advanced research, university teaching and teaching in elementary and secondary schools worldwide.
Carolyn Hylander '12 – ETA in Ibagué, Colombia
Hylander – from Seattle – double majored in Hispanic studies and global studies. She has accepted a Fulbright English Teaching Assistant (ETA) in Ibagué, Colombia, where she will be teaching part-time as an ETA at Universidad de Ibagué and doing part-time research in the community about U.S.–Colombia free trade policies.
"To me, receiving a Fulbright grant means that I will help foster cross-cultural understanding between Colombians that I will meet and myself as a representative of the US," Hylander said. "I pursued Fulbright because I want to learn more about Latin America, specifically about the US's relationship with Colombia and other Latin American countries and I want to learn how I can work for social justice in Latin America and for Latin American immigrants in the US."
Caitlin Walton '12 – ETA in Malaysia
Walton – from Colorado Springs, Colo. – graduated with a Bachelor of Arts in elementary education. She has accepted an ETA position in Malaysia. There she will be teaching English part-time and also working to engage the community through different activities, workshops and games.
"Ever since I was a little girl, I wanted to teach abroad," Walton said. "Through the course of my time at PLU, this desire was refined.
"Through the school of education, I realized my passion as a teacher extended beyond the classroom to a love of developing individuals. The Fulbright grant is focused on this idea of development, as it relates to individuals, relationships, and cultures. My interest in the English Teaching Assistantship is one that combines a love of education with community development. I look forward to being in a new environment as I work part-time in a school. But more importantly, I am excited about the opportunity to learn and engage with the people of Malaysia. The mission of Fulbright grants, to help bridge the gap between countries, is one I am excited to be a part of in the upcoming year. I am blessed with this unique opportunity and I wait in anticipation for the adventure ahead."
Gretchen Elyse Nagel '12 – ETA in Baden-Württemberg, Germany
Nagel – from Portland, Ore. – graduated with a Bachelor of Arts in German. She has accepted an ETA position in Baden-Württemberg, Germany. There she will be teaching English and work on after school activities to encourage community involvement and mutual understanding.
"I pursued the Fulbright Grant because I knew I wanted to travel outside of the U.S. and experience teaching in a tangible way," Nagel said. " I'm not sure which career path I want to follow at this point but I believe that I have to start somewhere with 'real-world' learning.
"I wanted to teach in Germany because I am not only passionate about both the culture and language, as I majored in German, but I also have familial roots there. Receiving a Fulbright Grant is an unbelievable opportunity for my post-undergrad future and it will open doors I haven't even considered yet, nor imagined. I look forward to the growth it will bring on personal and professional levels through fresh perspectives, learning curves and losing my comfort zone. This opportunity is one that will further challenge me in discovering my vocation and I couldn't be more excited to begin the adventure."
Mycal Ford '12 – ETA in Kaosiung Taiwan
Ford – from Tukwila, Wash. – doubled majored in Chinese studies and political science. He has accepted an ETA in Kaosiung, Taiwan. As part of his teaching assistantship, Ford will be working on a service project, teaching hip-hop choreography.
"I am a first-generation college student, who couldn't even explain to you what a scholarship was – four years ago," Ford said.  "Rewinding to elementary school, I didn't have 'college' in my vocabulary.
"I don't quite yet understand what a Fulbright is. Both my wonderful mother and supportive nana and I are excited; yet, we are unaware of what it truly means to be a Fulbright scholar. I arrived to Pacific Lutheran University by dreaming big. Someone told me that I should go to college, and when I dreamt of college – a lofty dream for me – it came true. Since then, I have been dreaming about a profession where I can share my gratitude to my mother and nana. The Fulbright is the very vehicle that will make that dream come true."