Currently Reading:
A calling to teach
June 26, 2012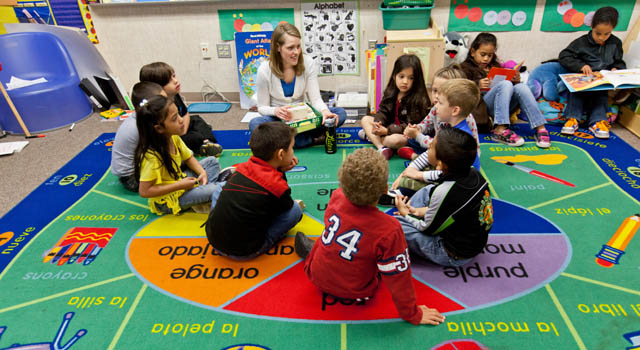 A calling to teach
By Chris Albert
Jenna (Steffenson) Serr '06 '10 takes account of her flock of kindergartners. Her eyes assessing every corner of the room, she sees her students mingling in different groups, chatting the way only 5- and 6-year-olds can.
To the untrained eye, it may seem like Serr, who is in her first-ever year of teaching, has lost control of her class. But that isn't the case, actually far from it.
With only two words she reels them in.
"Class, class," she says in a way that almost sounds like she's singing.
"Yes, yes," they immediately respond in cadence, all eyes meeting hers. Their singular attention is placed solely on their teacher.
Serr smiles. It's time to learn and she has them right where she wants them – her classroom, at James Sales Elementary.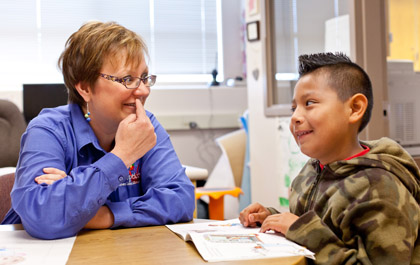 At James Sales, the students hover around their teachers like they are the sun of the classroom solar system – giving all they can to nurture the curiosity of their students.
"As long as they love coming to school and they know how education can open doors, that's my main objective," Serr said. "If I can at least help them love to learn and come back everyday, it will set a path."
"It absolutely is a calling," she said.
The elementary school is part of the Franklin Pierce School District and is just blocks from Pacific Lutheran University.
Over the year, the school has faced many challenges. The school has a high mobility rate, which means many students move from and to the school during the year. The causes of such a rate vary from having to move because of the inability to afford housing or the need to find work.
Moreover, 100 percent of the students receive free and reduced lunch. The school also provides breakfast for many of the students at the K-5 elementary school. It is common for students to know someone who has been in prison or even killed, said Kristen (Larsen) Schroeder '90 '97, principal.
They may not have things like a bed or clothes provided for them at home, she said.
"They have to overcome a lot of those hard things that we deal with as adults at a very young age," Schroeder said.
There's a certain type of educator Schroeder is looking for as principal of James Sales Elementary School.
"I ask everyone I interview, 'Is this your calling or mission?'" she said. You can guess what answer she's looking for.
It's a belief system that happens to be shared at PLU. It is something PLU strives to engrain in their students – to find and be passionate about a vocation that leads to lives of service. There are 13 educators at James Sales who call PLU their alma mater.
"I didn't look to hire PLU students, but I did look for people who are called to do this," Schroeder said. "I know what philosophical base they (PLU alums) are coming from."
The two are both a part of the community of Parkland, Wash., a community that has embraced James Sales, investing in their local school in whatever way they can. This past January, the entire school assembled to watch The Ellen Show when the school was recognized for the work they do. With one of her students on her lap, Nancy Herold '76 recalled how the students all spontaneously applauded when Schroeder was introduced on TV.
She then looked back at all the other educators and not a dry eye was in sight. Tears of joy were streaming down their faces. They didn't even know that Ellen and Target were giving the school $100,000.
"We received the money [from The Ellen Show] not because there's something wrong with our school, but because something is right with our school," Herold said, a social worker at James Sales.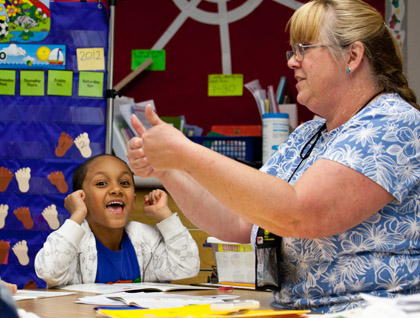 The money is being used to provide a safe play area for the community at the school and things like new audio equipment for assemblies. As an example of what's right: When the school held a neighborhood BBQ this spring to celebrate the installation of the play equipment, more than 600 people showed up for the school of 400.
Throughout the year, Ellen had asked people to write-in and tell her about schools, teachers and principals making a difference in the community.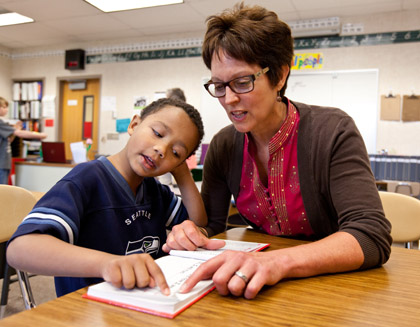 The show received thousands of letters and selected to tell the story of James Sales. For the remarkable work the staff does at the school to inspire hope against the odds, The Ellen Show and Target gave the school $100,000.
For instance, right before winter break, staff had noticed a rise in anxiety and even outbursts by the students. Many of the students know they won't get much for Christmas, and breaks also mean no meals from school.
"So many of the kids are carrying the weight of the world," said Brianna Williamson '08, first grade teacher.
Schroeder and the staff created the "12 Days of Hope." The staff at James Sales collected donations from the community to give each and every student something for 12 days leading up to winter break – from toys to winter coats.
"Here at James Sales the teachers take ownership of all students," said Teri Soholt '02, an extreme behavior disorder teacher. "It's all about building their image of themselves that they can do it."
The idea of hope to make the holidays a bit more manageable for students has grown to create more engagement, ownership and pride in what takes place at James Sales.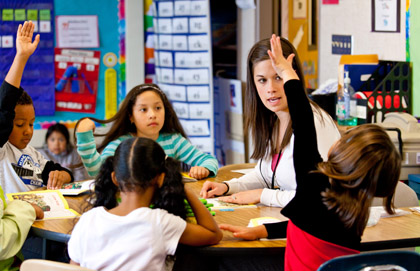 The school has many volunteers who come in to work with the students through groups like the Watch D.O.G.S. (Dad's of Great Students) – more than 200 fathers volunteer their time at the school, helping in anyway they can. A big part of what they do is being present and showing the students how much they care about them, Schroeder said.
"These fathers are just so excited and happy to be here," said Cindy (Chipman) Miller '88, a learning specialist. "I think the more people we have involved in our school the better."
In many ways, current PLU students who volunteer at the school do the same. Through engagement like the Big Buddy program, college students buddy-up with elementary school students to help mentor, nurture and live an example of what is possible. They give students a glimpse into who college students are, what is possible through education and show how much people care about the strides James Sales students make.
"It's definitely all about the kids," said Ruthy (Eap) Green '06, paraeducator. "Working so closely with them really encourages them. It makes them know someone cares about them. That's what we do here."
The students recognize the time people put in to be with them, Schroeder said.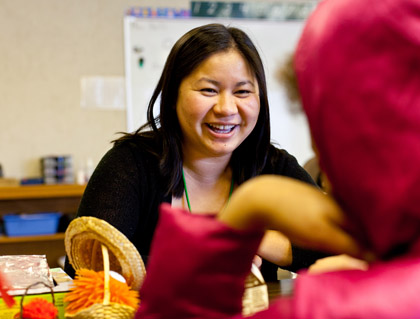 "They see that people care, that they are loved," she said. "'I love you,' here, in this school are not bad words."
That's part of the package at James Sales. Learning should be fun, all the educators agree. It's not just dry instruction to meet standards. That is part of it, but so much more goes into educating the whole student. They take that concept – "educating the whole student" – very seriously here. After all, they are all there for the same reason: "the kids."
That philosophy is one of engaging students, and that also means fun. It doesn't seem commonplace for a teacher at James Sales to remain at the front of the classroom, dryly giving out instruction. They interact – going from workspace to workspace or moving the students around – using the whole classroom as an imaginarium of education.
Sometimes the fun is a parlor trick. The students may think they are just playing a game, but really they're learning.
In Dixie Pyles' first-grade class, the students are lined up along a wall of books with mason jars each filled with a single marble. Pyles '10 sits holding a Styrofoam tube, manipulated to resemble a model bobsled run. Students get ready to drop their marble at the top of the run and see if it can go around a loop Pyles has made. They're using math and science to predict what the outcome will be and what they have to do to get the marble to make the loop.
"Will it make it?" Pyles asks the first student.
"I think so," a 7-year-old says with confidence. They've made their diagrams and it should work.
"OK, let it rip," Pyles says.
The marble runs down the pipe and whirls around the loop, gliding safely into the hands of a student who is catching the marbles.
"School should be a place you want to go to," Pyles said. "It should be entertaining. I think that's really why I started."
The teachers here work together to make education not just fun, but effective. Much that has to do with working together and trusting advice from others.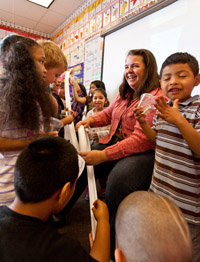 "Everyone here helps each other and we care so much about the kids," said Gretchen Saunders '04, kindergarten teacher. "I'm not afraid to go to anyone for help. I trust all of my teammates."
Trust is a big part of an effective education, Schroeder said. Many of the students, and even parents, have had a hard time believing anyone cares about the education of the children at James Sales. It can be a struggle to develop and maintain relationships, if the students and their parents don't see continuity.
It's really apparent, with a highly mobile student population.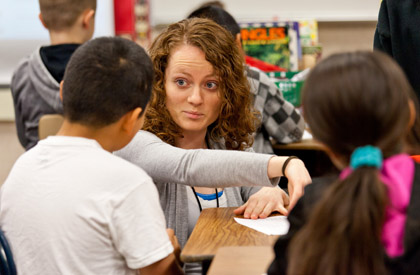 It is Schroeder's intention to do whatever the staff can to maintain and develop relationships that encourage more stability, with a goal of more student success. The school runs on a looping strategy, where students have the same teacher for two years.  Sophia (Storaasli) Stover '08 said the looping strategy really motivates parents to do whatever they can to keep their children at James Sales.
"It's amazing the connections you make with your students," she said. "(And the following fall) We know right where to take off."
And it pays off. Since implementing the strategy for all grades this year, there has been a 25 percent reduction in the school mobility rate. And like-wise, a school that wasn't meeting standards for four years has now achieved that benchmark last year and they expect to meet that mark this year too. They will find out the results in August.
"I love looping," said Robyn Paczkowski '84. "Their sense (that) they belong somewhere grounds them in being a learner.
"They learn about life more than if they weren't being a part of the group."
Parents are becoming very involved in their children's education. For parent/student conferences this past year, 97 percent of parents attended.
"They might be poor, but they get involved and are engaged," Schroeder said of the parents. "They want the best for their kids."
As much as the staff and parents buy into what is being done at James Sales, the students are also taking ownership in their education and their school.
Earlier in the year, fourth grade teacher Jessica Edwards '11 started playing basketball with a few students during recess. And then a spark of making it something more hit her. She asked Schroeder if she could try to organize an after school basketball club – more than 40 students signed up. Many of the students aren't able to afford the fees to participate in organized sports.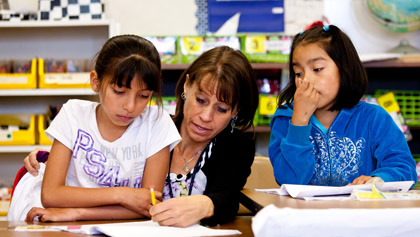 When the club finished up for the year, the occasion was commemorated with a photo. Many of students had never had a team photo before. Community volunteers and donations made it happen.
The photo hangs in the front of Edwards' classroom and another hangs in Schroeder's office.
But a few students hadn't had their fill yet. They thought, "What if we had a basketball tournament?"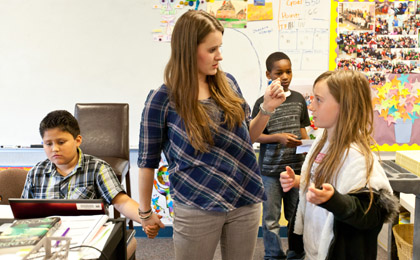 They asked, and Schroeder said come up with a proposal – a bracket, how long games would go, how teams would be organized, outreach to other classes to find out interest – all the trappings of organizing a basketball tournament.
"It's cool to see them take ownership of their school that way," Edwards said. "They are taking a leadership role they haven't taken before."
The students made a proposal and presented their idea to Schroeder, who approved it. Needless to say, Edwards has a little more basketball in her. She'll referee the tournament the students created.
It's fun. It's outside the curriculum. It's after school. It's relationship building and the students took ownership of something and did the work to make it something else.
"I think relationships are the foundation of effective teaching," Edwards said.
Building relationships is part of learning, she said.
"It's neat to see kids who maybe didn't have many friends at the beginning of the year build connections," Edwards said. "And now they have those relationships that continue in life, not just school in general."
She remembers how the PLU education professors showed her over and over again – "It's about building relationships."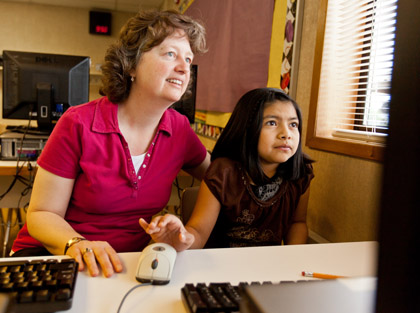 "I think one of the great things about PLU is they model what effective teaching looks like," Edwards said.
"It's not just about how you teach, but whom you are teaching and how you approach them and showing that you care," she said. "It's little things like a high-five or a handshake or a hug that help show how much you care.
"I tell them all the time – I love that you are here today."
That acknowledgment isn't just about being at school, but being a part of the school, a part of learning.
"They're not just learning to read, but they're reading to learn," Williamson said, as an example. "They are going out with these new skills to open the world to them and it's cool."
As a learning specialist Miller works one-on-one and in small groups with many students. As someone who has been at James Sales for more than a decade, she sees how much the students have changed in how they engage learning.
"They don't say 'I can't' anymore," she said. "They don't say it because as a building we've focused on building hope. They can do it."