Currently Reading:
Zylstra to lead Center for Community Engagement and Service
June 28, 2012
Zylstra to lead PLU's Center for Community Engagement and Service
The way Joel Zylstra '05 sees it, PLU's mission is all about reaching out, getting involved and making a difference of individuals in the nearby Tacoma and Parkland community. It is obvious that it is his mission as well. One he embraces with gusto.
"The community really is a classroom for the students," Zylstra said. "And the campus is an invaluable resource for the community."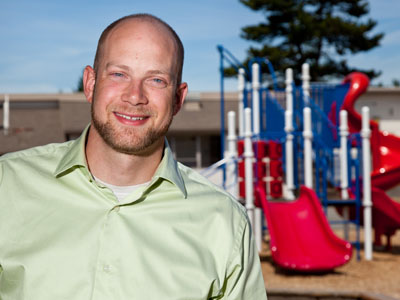 Zylstra is PLU's new director of The Center for Community Engagement and Service, which operates under the
Career Connections
department. His job, basically, is to connect PLU to the community, be it through working with faculty to support service-learning in a class, or talking with community leaders about opportunities and concerns in Tacoma or Parkland, and then deciding how PLU might be involved in the project.
The federal community work study positions go through the Center for Community Engagement and Service, as well as other tutoring and mentoring programs, such as Big Buddies or America Reads.  His office also helps out with PLU's Hunger and Homelessness Awareness Week, as well as National Volunteer Week on campus. He's is currently working with Habitat for the Humanity on a 30-house project in Parkland, and figuring out what role PLU can play in the build. Orientation's "On the Road" trips that involve service-oriented opportunities are also planned by Zylstra's team.
Obviously, Zylstra has many plates spinning in the air, but it's also clear he loves to keep busy and keep PLU – and its students – connected. This day, Zylstra is particularly excited about an AmeriCorps position that will be stationed at PLU to work with three nearby elementary schools – James Sales, Brookdale and Christensen – to coordinate mentoring projects by PLU students.
PLU students from an education class dealing with multicultural issues in the classroom will be going out to the schools. In turn, "fifth graders will be coming to PLU for a day, and hopefully it will put them on the trajectory of thinking about college," he said.
Eventually, Zylstra would like to see PLU known as much for its involvement in the local community as it is now known for its nationally recognized study-away programs. And the way he sees it, there's a natural link between the two.
He asks: Once students return from a study away program, what are they going to do with all that energy?
"What better way to direct it than in our own backyard," he said.
"Community service is a great resume building, no doubt," he added. "But it's also part of PLU's mission revolving around what it means to be a citizen, what it means to be a good neighbor, and  our individual and collective responsibility to participate in our community."
Zylstra graduated from PLU with a degree in recreation and environmental studies, spent some time working in the Student Life offices on campus, before spending one year in Kenya working with a non-profit. He then completed his master's in educational leadership from Miami University in Ohio.