Currently Reading:
What's he like?
July 30, 2012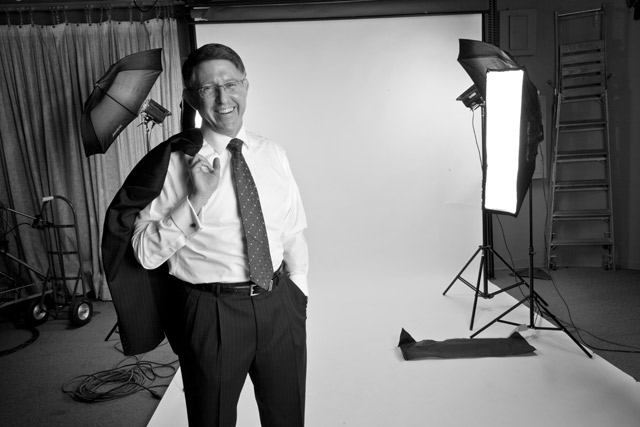 What's He Like?
Details say a lot about a person, and that's certainly true when you meet Thomas W. Krise, Pacific Lutheran University's new president. First, there's the greeting. "Call me Tom."
As he works his way through a crowd, 200 strong, at the June 1 gathering to welcome him on his first day, Krise repeats that refrain again and again to those in the greeting line in the Scandinavian Cultural Center. His shiny, gold PLU-issue name badge reinforces his informal style, stating simply: "Tom Krise, President."
A few feet away, his wife, Patricia Krise, an executive at Ford Motor Company, utters a similar refrain. Her name badge: "Patty Krise."
Both approach you similarly – firm handshake, friendly smile and a direct gaze that implies they are listening to everything you say.

"My main job here is to support Tom in his role, to help in any way possible. And to reach out to students," said Patricia Krise.
It's this genuine interest in others that was one of the first details that that Professor of Sociology and former Faculty Chair Anna Leon-Guerrero, a member of the search committee, noticed about Krise the candidate.
"That means a lot to the faculty," she said, "He has credibility, he has experience, he's been there. He's one of us."
He is one of them. Prior to his appointment at PLU, Krise was dean of the College of the Pacific at the University of the Pacific in Stockton, Calif., and chair of the department of English at the University of Central Florida in Orlando.
He's also a military man, a 1983 graduate of the U.S. Air Force Academy, serving 22 years of active duty, retiring with the rank of lieutenant colonel. Among his many accomplishments there, Krise was the founder and first director of the Air Force Humanities Institute at the academy.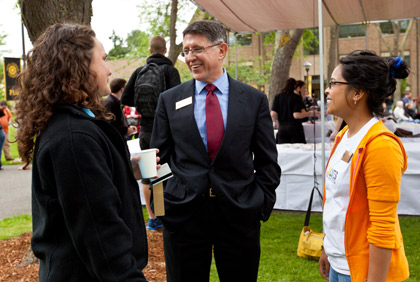 Given this eclectic and wide-ranging background, it should not be surprising how vast, and expansive, his interests are. Both he and Patty are avid hikers and boaters. Krise will quickly pull you into fast-moving conversations, complete with animated hand gestures to illustrate the story and his favorite topics, such as teaching, 18thcentury Caribbean literature, two years living aboard a sailboat, the value of a liberal arts education, food and coffee. Especially coffee.
In a hobby that will certainly give him street-cred among Northwesterners, Krise buys his beans green – preferably from the Blue Mountains of Jamaica – and then roasts them with his own roaster at home.
Krise's connection to the Caribbean began early. Born Thomas Warren Krise in San Antonio, Texas, the son and grandson of U.S. Army medical service officers, Krise spent his childhood on bases across the United States and in Germany. When his father, Edward Krise, retired from the army and academia, the family began sailing, racing and running a charter service based in the U.S. Virgin Islands. His mother, Elizabeth Bradt Krise, is an expert navigator and would navigate the boat on races and family excursions.
For nearly two years, Krise lived full time aboard a sailboat as a teenager. "I remember the boat pulling into the harbor, leaping onto the dock and running to the nearest library. It was a refuge in a way," he said.
After two years of correspondence school via the University of Nebraska, Krise's parents decided it was time for their son to get a real high school experience. They dropped him off at an apartment in St. Thomas, Virgin Islands, at the age of 14, and continued sailing, with frequent check-ins to see how their youngest was doing. Four years later, he graduated from All Saints Cathedral School in a class of 18 graduates, most of whom still gather on Christmas Eve in an annual gathering that the Krises always try to attend.
After graduation, Krise considered several routes – clergyman, teacher, lawyer. Ultimately, he took a scholarship to the U.S. Air Force Academy as a student representing the Virgin Islands.
Lack of 20-20 vision ruled out being a pilot, so Krise inquired about intelligence, which in turn, resulted in his being stationed in Minot, North Dakota, in the basement of a house that served as launch station for intercontinental ballistic missiles.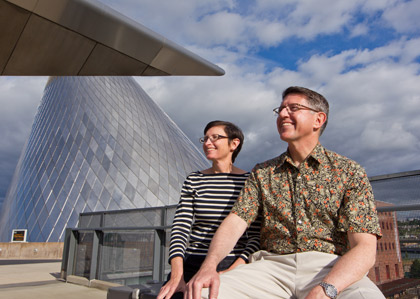 "Four years, one month, and one week," Krise dryly said of this duty, obviously not his favorite topic.
One good thing came out of Minot, however. He met his wife, Patricia Love, during an aerobics class. She was working as a sales representative in the Ford Motor Company at the time, and has since become an executive in charge of quality control. The two will celebrate 25 years of marriage on September 5, the day after Krise's inauguration at PLU.
The Krises spent years following their respective career paths, trying to stay in the same city, or at least the same state. In homage to his childhood in the Caribbean and his love of history, he received his Ph.D. in English language and literature from the University of Chicago in 1995. His emphasis is in 17th and 18th-century early Caribbean, early American, and 17th and 18th century British literature.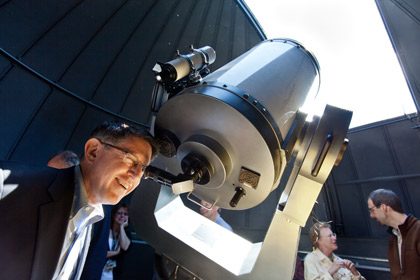 Krise returned to teaching at the U.S. Air Force Academy. There he began lobbying for a Humanities Institute, spending a year convincing skeptical military brass that humanities and the liberal arts were critical to shaping our nation's leaders. "It's really short-sighted to focus on turning out technically trained engineers, when in fact, as an officer you're never going to be a practicing engineer," he said.
After a year of pushing and politicking, he won – and the Air Force Humanities Institute was born. That didn't mean the battle ended there. Whenever critiques were made about cadets studying literature or taking a pottery class, Krise would pull out the now-iconic picture of the hooded Abu Ghraib prisoner.
It silenced his critics. Without saying a word, Krise made the point that leaders cannot simply be smart and battlefield savvy – they must also be culturally sensitive and humane. With little prompting, Krise moves on to why a liberal arts education is more important today than ever for students seeking positions of leadership in the world.
This point was made when Krise, then a dean at the University of the Pacific, took a tour of the Google campus. The high-tech executives made it clear to Krise that they troll for graduates from liberal arts schools to add to their cadre of employees.
"They very deliberately hire every possible major for their work environment," he said.
The energy, the passion for new ideas and the sense of vocation that he saw at Google are also some of the same attributes he values personally and ones that attracted him to PLU, he said. In one way, he feels that coming to PLU, with its strong academic programs, as well as being near Joint Base Lewis-McChord has intertwined the threads of his life. "I feel like everything in my life is coming together," he said, adding that both his academic and leadership credentials will be valued here.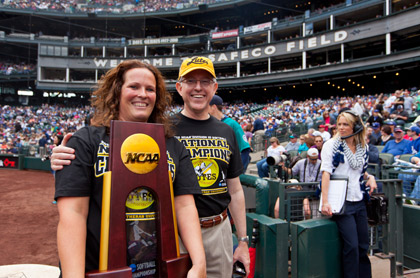 Soon the meet-and-greets will turn to the types of things that, as he said, "keeps every college president up at night." Until then, both he and Patty will continue to introduce themselves to the PLU community.
At one of PLU's summer traditions – the berry festivals – the Krises step out of the Hauge Administration Building, they are greeted by the warm sounds of Caribbean music from a steel drum band. Before he starts in describing the origin of the music and drums, Tom Krise just listens. And enjoys. It was an unplanned, serendipitous welcome home.