Currently Reading:
I never thought I'd study away four times and still graduate on time
August 1, 2012
I never thought I'd study away four times –
and still graduate on time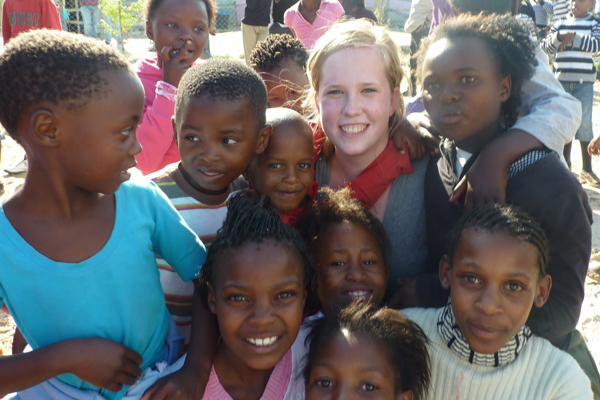 Maryn Johnston '12 and some of her new friends in South Africa.
By Katie Scaff '13
When Maryn Johnston '12 came to PLU, she knew she wanted to study away.
The Phoenix, Ariz., native traveled to Europe for two weeks with her family in high school and took a 10-day trip to Mexico after graduation, but those trips pale in comparison to the experiences she's had since she's been at PLU.
Since coming to PLU, Johnston has studied in China, Switzerland, South Africa and a combined program to Argentina and Antarctica.
After four trips to five continents, Johnston still graduated on time with a double major. Magna cum laude, in fact.
"I didn't think it would be four times. I was thinking once, maybe twice, if I was lucky," she said.
Her secret? January Term, the one-month mini-semester between fall and spring.
She spent two J-Terms studying away, plus part of a summer. She also completed a semester-long exchange in Geneva, Switzerland. The J-Term structure allowed Maryn to get off campus and still be involved with other programs and groups at PLU like the Wind Ensemble and peer tutoring.
"It all comes down to curiosity," she said. "Do you want to see what's out there?"
Johnston certainly had the curiosity for many things – and it wasn't limited to one discipline or another.
She studied multilateral diplomacy and French in Geneva; environmental literature in Argentina and Antarctica. When she was in South Africa, she studied the transition from apartheid to democracy. And when in China, she performed with PLU's Wind Ensemble.
PLU made it easy for Johnston, a global studies and religion double major, to reach her personal and academic goals. PLU's Wang Center for Global Education is dedicated solely to that purpose – it helps students find the programs they are interested in, the scholarships that are available, and the center helps them get the appropriate academic credit, too.
For Johnston, she believes it wouldn't be a PLU education if didn't have all this – the classes, the study away experiences, the music. And when she walked across the graduation stage last May, she knew these essential experiences won't just help her in her career – they will be with her forever.
"It's about the experience, but it's also about what comes after," Johnston said. "Now, these things will always be a part of me."
To see what study away opportunities might be there for you, visit the Wang Center for Global Education.