Currently Reading:
An unlikely librarian
August 3, 2012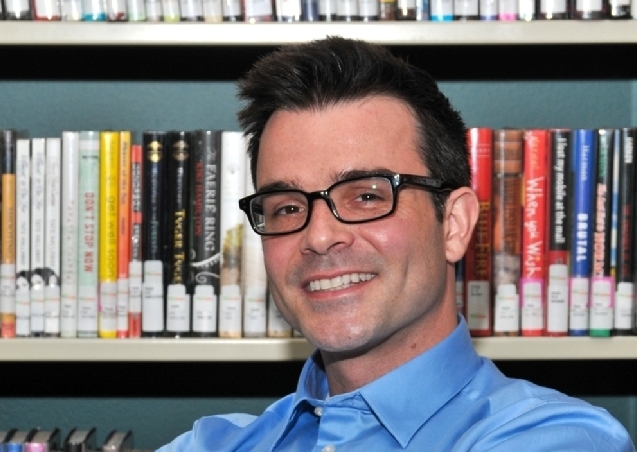 Alumni Profile: An Unlikely Librarian
By Hailey Rile '12, University Communications
Brian Bannon '97 couldn't have imagined he would become the head of the country's second largest library system, the Chicago Public Library.
He has always loved books but never saw libraries as his calling, until his late college years. His interest and expertise in the intersection between libraries and technology has allowed Bannon the opportunity to make a difference.
"I want to leave the world better than I found it," Bannon said. "I have a sense of wanting to give back."
A native of a small farming community outside of Bellingham, Wash., Bannon grew up in a farmhouse, attending the public school system. Active in sports as a child, most notably swimming, Bannon wound up at PLU on the swim team. Drama was another hobby of his, a talent that even landed him a commercial with Hilary Swank.
Bannon recalls the difficulty he had learning to read as a child due to his experience with dyslexia. Because of the setback, he knew that he was going to have to find another way to learn than traditional book reading. Bannon found he was able to learn best when he had hands-on experience, something that later influenced his interest in libraries and their use of technology.
Now the newly appointed CEO of the Chicago Public Library System, Bannon has definitely found his passion. He replaced the longtime library commissioner at the beginning of March, before which he held titles of the San Francisco Public Library's chief information officer and chief of branches since 2006. An internship at the Bill and Melinda Gates Foundation and the opportunity to serve as a branch manager for the Seattle Public Library led Bannon to his job in San Francisco.
"This is an amazing example that people shouldn't make assumptions about what people can and can't do," said Beth Kraig, a history professor at PLU and a mentor of Bannon's.
One of the first openly gay students at PLU, the atmosphere was not always positive, Bannon admits. At a time when society wasn't as accepting, he and a group of other students and faculty saw the need for change. Thus was the birth of Harmony, PLU's queer-straight alliance group, which still has a strong presence on campus today.
Despite the difficult moments, Bannon remembers PLU fondly, and that he wouldn't change a thing about his college experience. "I couldn't have imagined a better place to learn than on that campus. I thought it was worth every penny," Bannon said.
Bannon got his first taste of working in libraries while in college, volunteering at the University of Washington–Tacoma library. It was there that he felt a spark and found in himself at the crossroads of libraries and technology, and how they could be integrated to better serve and educate the public.
"I really started to get passionate about what public libraries could do," Bannon said.
A psychology and self-designed gay and lesbian studies double major during his time at PLU, Bannon said that he was an unlikely candidate for someone who would go to library school.
But thanks to his interest and the support from others, he found himself walking down that path.
Upon receiving his bachelor's from PLU, Bannon found himself at the University of Washington's Information School, earning his master's of library and information science, thanks, in part, to encouragement from Beth Kraig.
Looking ahead, Bannon hopes that the Chicago Library can be a model for others around the country.
"I hope to continue to push the thinking about the role of libraries in our current stage and era," Bannon said.
Kraig said she is extremely proud of Bannon's accomplishments and can't wait to see where the future leads him.
"It's been a real privilege for me to know him, to watch him thrive," Kraig said. "I just feel like I'm watching the Brian Bannon show."