Currently Reading:
Words matter. Prof looks at how words shape our world view.
August 3, 2012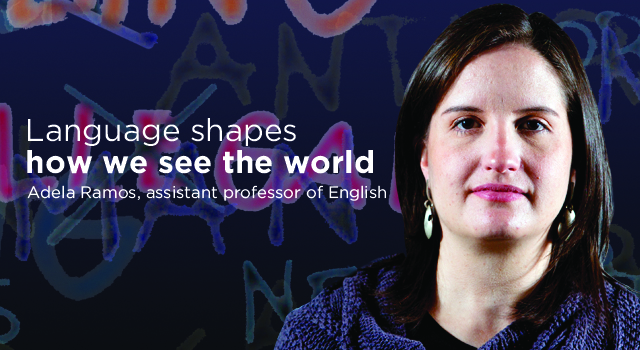 Immigrant described as 'crawling' causes professor to take a closer look
By Chris Albert, University Communications
Adela Ramos will never forget the day when, as a graduate student at Columbia University in New York City, she was reading a "New York Times" article about a Mexican immigrant who was described as crawling under a fence to make it into the United States.
The word "crawling" struck Ramos as an odd way to describe a person crossing the border.
People aren't typically described that way, animals are.
"It wasn't the journalist being derogatory," Ramos, an assistant professor of English, said of the article. "But it was animalizing the immigrant. It's one way of dehumanizing people – for sure."
In fact, Ramos noted that using the word "crawling" to describe an immigrant was not simply limited to this one instance – it had become accepted. For Ramos, that was troubling.
"Language says a lot about how we see the world," she said.
Ramos has been fascinated with language and how it is used in literature since her time as an undergraduate student at Universidad Nacional Autónoma de México. It began with a teacher who brought to life 18th century British novels – and in particular, the role women played in the development of such novels.
Her interest in understanding how women are portrayed, led Ramos to become interested in how language is used to describe other things.
"When I was in grad school, I started to focus my work on animals and how they are portrayed in language," Ramos said.
The field of studies she draws from is critical animal studies with a focus in "anthropomorphism" – the attribution of human characteristics and purposes to inanimate objects animals, plants or pretty much anything that isn't human. She also focuses on its counterpart "animalization," which is the attribution of animal behaviors – like crawling – to human beings.
It wasn't long before Ramos noticed how often descriptions used to describe animals are attributed to humans to disparage gender, class and race.
"We can all think of a few ways animal descriptions have been used to describe women," Ramos said. "We tend to think of ourselves as supreme to animals."
Ramos' examination of language – and particularly how women and animals are described – intersected with immigration issues on the day she noticed the word "crawling" in that "New York Times" article. Ramos understood the issues being a Mexican-American, but she never thought she'd want to examine them as part of her profession.
"I always thought I'm glad I don't do scholarship on immigration because it would get me too fired up," she said. "But that was when it all came together."
At PLU, Ramos has been able to combine her interests in language and immigration through courses she teaches, as well as through the university's Common Reading Program. This year for the first time, the entire campus – students, staff and faculty – is reading the same book at the same time, exploring immigration, race and gender identity through the novel "Into the Beautiful North" by Luis Alberto Urrea. Urrea will be on campus September 13th to speak on the topic and his book.
The novel features a young Mexican teenager, Nayeli, who notices that, just as her father did, many of the men of her village have gone to the United States to find work. While watching the classic 1960s Western film "The Magnificent Seven," she decides to head north and recruit her own "Siete Magníficos" to repopulate and protect her hometown.
According to Ramos, the journey Nayeli takes is fascinating, heartbreaking and even a little bit hopeful, because a character like Nayeli is developing her sense of identify without the benefit of her father's guidance.
For Ramos, stories like "Into the Beautiful North" are appealing because they are not simply a good read, but they accurately show just how complex the world really is.
And those complexities can be lost, she believes, when people casually use loaded words to describe people who are different from them – such as describing an immigrant to be "crawling" like an animal.
"I think on my better days as a teacher I do make that connection," Ramos said. "That's what's great about PLU students. They want to make those connections.
"They (students) really value education in ways you don't get at all institutions." She feels a sense of accomplishment when she starts seeing students use terms in class and descriptions that she's conveying, effortlessly. As if it was just the way they always spoke.
"I don't need them to think like me at the end of the course, but I want them to consider and question the concepts," Ramos said.