Currently Reading:
Voices from empty chairs
September 20, 2012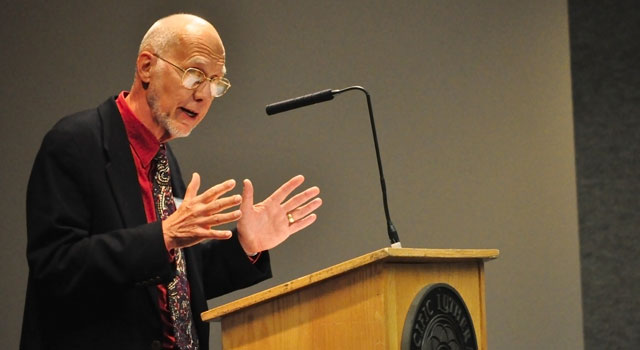 Voices from empty chairs
The human species' role in today's global economy is one of using the Earth as a commodity, said Larry Rasmussen.
To sustain the Earth, including human life, a shift must occur to an ecological economy, where humans are not just stewards of nature, but view themselves instead as a part of all nature and the ecological system, he continued.  Before a full-house in the Scandinavian Cultural Center of the Anderson University Center, Rasmussen, the Reinhold Neibuhr Professor Emeritus of Social Ethics at Union Theological Seminary in New York, gave the keynote for the Lutheran Studies Conference – Lutheran Perspectives on Political Life: "What has God to do with Caesar?"
"Ours is not the same planet our ancestors knew and loved," he said. "And it will not be (the same) in the lifetime of all the people sitting here."
Next to Rasmussen were three empty chairs to signify the un-represented and the under-represented of Earth. This was not a jibe at Clint Eastwood's monologue at the Republican National Convention, but rather a reminder that all segments of life have to have a say in this world to survive.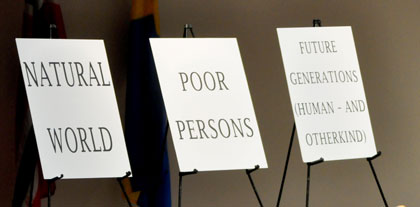 The chairs represented the natural world, the poor, and future generations of humans and other species.
The retired professor now lives in New Mexico. On a wall in his home there is a poem by Wendell Berry that reminds one of not only what is at stake, but the responsibility of all life to cherish life.
"To cherish what remains of the Earth and to foster its renewal is our only legitimate hope of survival," he said, quoting Berry. The writing, Rasmussen noted, is literally "on the wall" for the human race.
As much of a task as it is for humans to view themselves as part of life rather than commanders of life, the concept of dominating the natural world is a relatively new view, he noted. It's only been in the last century, during the industrial age, that humans started to view the Earth as a commodity, Rasmussen said.
As such, "nature is rendered more, not less, vulnerable," he said.
And Earth is becoming less tolerant of these abuses, Rasmussen added.
"We have a design problem," he said of how our species functions with the world. We are now facing not only an environmental crisis, but a "civilization crisis," he said.
Destruction is not a sustainable way of life, he said. Religion has and can play a big role in how the species views itself within the context of the natural world. To sustain and re-vitalize, there must be a religious and a moral transition for the care of a healthy Earth, Rasmussen said. God and the ecosphere must be viewed as a whole.
It is the identity of the cross that calls people to care and nurture the most vulnerable, he said. Now, it is creation itself that is most vulnerable. The science of this crisis is no less valuable, in that it guides actions and explains what is happening around us, he said.
"Science is indispensable because it can tell what is happening," Rasmussen said. "Religion is in any case no substitute for science, yet few people will die for a pie chart."
He said how PLU is a place where those concepts can thrive and spread throughout the world because it is a place where vocation is not just a word, but a way of life. It is more than a moral obligation to care for the Earth, it is imperative for human well-being, and the survival of the many voices that are represented by empty chairs.