Currently Reading:
PLU VP wins the Scott Goodnight Award
September 21, 2012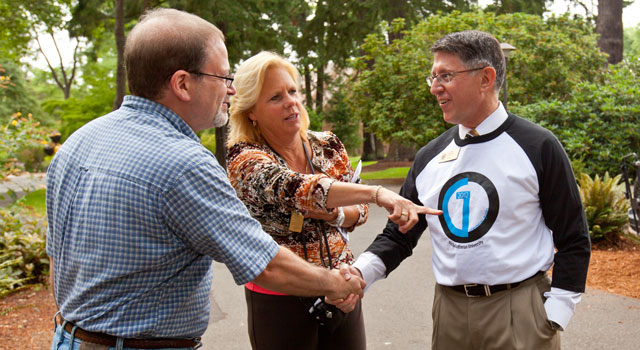 PLU VP wins the Scott Goodnight Award
PLU Vice President for Student Life and Dean of Students, Laura Majovski, was named the recipient of the 2012-2013 Scott Goodnight Award in Region V of the National Association of Student Personnel Administrators.
The award recognizes a senior student affairs officer that exemplifies: a sustained professional service in student affairs; a high level of competence in administrative skills; a merited stature among and support of students, faculty, and fellow administrators on the campus served; innovative response in meeting varied and emerging needs of campus; effectiveness in the development of junior staff members; significant contributions to the field through publication of professional involvement; and leadership in university and community affairs.
As part of a nomination process, several of Majovski's peers wrote recommendations nominating her for the distinction of this year's Goodnight award.
In her nomination packet, Karl Stumo, PLU vice president of Admission and Enrollment Services, wrote:
"Dr. Majovski is a shining example of the highest levels of professionalism in the student affairs profession and commitment to the overall success of all students in a post-secondary setting."
He continues:
"Throughout her time, Laura has been an active agent in assisting students to pursue and achieve their highest aspirations personally, academically, and professionally. Additionally, Laura has been a strong and able leader of the campus community in a wide range of leadership capabilities."
Also in her nominating packet PLU student Haley Miller '13, chair of the University Student Media Board, wrote:
"Dr. Majovski is an outstanding candidate for the NASPA Region V 2012-2013 Scott Goodnight Award because of her unwavering support of PLU students. She responds to student concerns promptly, respectfully, and with a sincere interest in helping students grow, allowing for the best PLU experience possible."
Majovski will receive the award at the November 2012 Western Regional NASPA conference. As the regional winner her nomination will continue to the national level with six other regional Goodnight awardees.