Currently Reading:
International students eat up American culture
September 23, 2012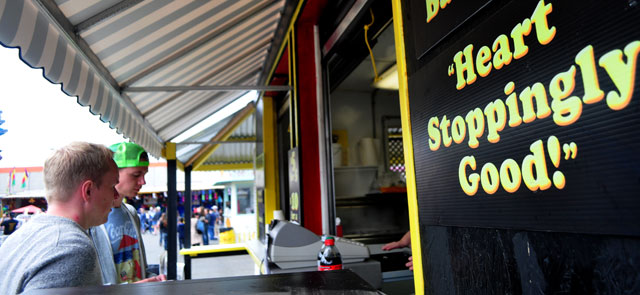 International students eat up American culture
With all the exhibits, animals, rides and fried foods, there's no one way to "do the Puyallup." This was apparent from the time a group of international students walked through the gates at the fair Saturday morning.
Some, daunted by the sheer size of the fair, grabbed programs with maps to help navigate their day at the fair. Others were too eager and set off in their own direction.
"I've never seen anything like this before," said Emily Chi '16, a biology student from Taiwan, who wandered off toward the animal barns with four other international students. "I don't even have a word to describe it."
The goats and horses they saw didn't cause too much of a stir, but hearing the words "edible elephant ears" caught their attention. They found the deep fried butter stand to be even more ridiculous.
"Deep fried butter?! There are people actually buying it?," said Jonas Kristiansen '13 in disbelief.
Much to Kristiansen's surprise —  and disgust — some of his fellow international students from Denmark would be eating these tasty treats in a few short hours.
After starting out their day checking out some of the RVs and Jacuzzis on display, Morten Hansen '13, Emil Junge '13, and Kristian Loeje '13 — international students from Denmark — made it their mission to try some of the fair's famous fried foods.
In fact, after he heard about how gross some of the fried fair food is from his Puyallup native roommates, Hansen decided that was reason enough to go to the fair.
The trio gobbled up a dish of deep fried Oreos and shared some chocolate covered bacon pieces, both of which were more palatable than they imagined.
Hansen continued his search for the ultimate fried fair food and landed at the fried butter booth, where his international peers had been awing in disgust a few hours earlier.
Hansen opted for the five for $5 deal and managed to eat two of his fried butterballs before telling his friends, "I think I'm going to puke."
With their stomachs full of fried American delicacies, the three decided to get in some time on the rides and try their hand at the ring toss before it was time to head back to campus.
The trip to the fair is an annual event, but this was the first year International Student Services planned it. In years prior, the International Student Club, now named the Global Student Club, set it up.
"There's a lot of stuff to see," said Torhild Skillingstad '13, programming intern for International Student Services.
In addition to coordinating Saturday's trip, Skillingstad is also planning a trip to Portland for Mid-Semester Break and trips to Seattle and Zoolights at Point Defiance.
"It's a great way to show off some local stuff and American culture early," Skillingstad said.