Currently Reading:
Gordon Campbell '75 tells Lutes to follow their passion.
September 24, 2012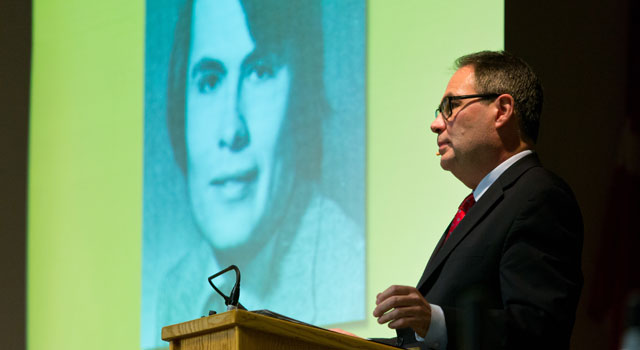 Gordon Campbell '75 tells Lutes to follow their passion.
Gordon Campbell '75 has three bits of advice for students or recent grads from Pacific Lutheran University. The first being: be passionate about what you do. That passion will hold you in good stead when you hit roadblocks during your career or find yourself in a situation where your resources, both mental and fiscal, are stretched to their limit.
His second? Consider public service, even if it's not your primary vocation, at least volunteer for a cause you believe in.
Campbell was the Meant to Live speaker at Friday's Homecoming event. It was definitely a homecoming for Campbell as well – as his New Yorker accent attests. He has spent most of his career in the Big Apple, dealing with everything from homelessness, the AIDS crisis to the aftermath of 9-11 in his adoptive home, where he lives in the  Gramercy Park neighborhood with his partner of two decades.
He grew up in a Lutheran family, and was based in Seattle. He came to PLU because many of his friends were here, and he loved the warm, inviting nature of the campus. And he loved the breadth and range of a liberal arts education.
"I think when you're an undergrad it's a time to expand your horizons, and a liberal arts education teaches you to think in every sense of the word."
Campbell relished his experience as a legislative intern in Olympia, and "it solidified my passion and commitment to public service," he remembered.
After graduating with a degree in political science and economics, he parlayed an internship at the state legislature into a job in the Secretary of State's office. He then went on to receive a law degree from the University of Washington, and received his master's degree in public administration from the John F. Kennedy School of Government at Harvard University.
He recently left his post as CEO of the United Way of New York City to assume a full time teaching position at New York University's Robert F. Wagner Graduate School of Public Service.
During a long career that includes senior positions in the Koch, Dinkins and Giuliani administrations in New York City, Campbell counts two turning points that changed his life. In the mid-1980s, Campbell was charged with developing a social service response to the AIDS crisis in the city, which at that time was one of the epicenters of the epidemic. He had to deal with unions who refused to help patients, or housing officials who wouldn't supply rooms for AIDS patients.
"I was a young pup then and just groping my way along…there wasn't a play book for this," he recalled.
The other moment was on that achingly beautiful fall day in New York on 9-11. Then Campbell was the CEO of Safe Horizons, a nationally recognized victims' assistance organization. He was having breakfast on the Upper East Side when the first plane hit, then he heard about the second plane. He hopped on one of the last trains to make it near Ground Zero and was near the centers as the first tower imploded and fell. He watched as people, including the mayor and his entourage, flee from the dust cloud,
"Their command center had been destroyed," he said.
People opened up shops to get their colleagues out of the dust, and offered up water and food free of charge. "I saw New York at its best," he said.
He was soon asked to have his agency lead the local response to help victims in the state. As with the AIDS epidemic, Campbell found himself leading in a crisis, against a backdrop never imagined before. His staff grew from 600 to 1,000 and he devised a system to make sure victims who needed money, walked away with a check in hand, rather than wait weeks for a FEMA response. His staff established mental health centers in the outer boroughs to help with the emotional aftermath.
Turning back to alumni or students just starting their careers, his third bit of advice? Enjoy it, take risks, and learn to think on your feet. It may come in handy.