Currently Reading:
'Follow your bliss'
September 29, 2012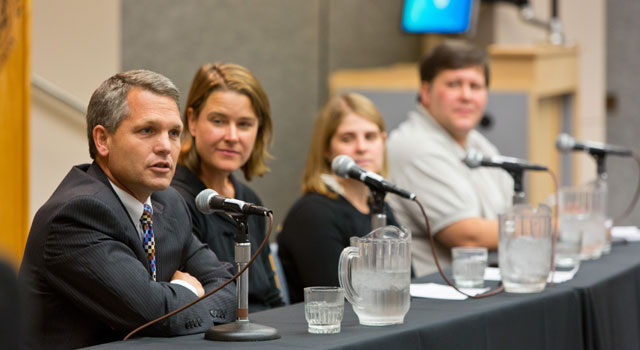 'Follow your bliss'
By Chris Albert
The resounding advice from a panel of social sciences alumni during the Meant to Live conference was: "Follow your passion."
"I have always been interested in a lot of things," said Holly Foster '96, who majored in psychology and theater. "That's what I'd encourage for students. Really follow your bliss."
Foster is now the co-owner of a community supported agriculture program, Zestful Gardens. Joining Foster were Stephen Alexander , who majored in anthropology and manages an offshore team in New Delhi, India for Russell Investments; Andrea Sander '05, who majored in political science and English and is currently an attorney for Microsoft; and Kevin Anderson '80, who majored in religion and is the president and CEO of Wesley Homes, a not-for-profit provider of service and care options for older adults.
The Meant to Live conference explores the concept of vocation and is sponsored by the Wild Hope Center for Vocation.
What brought each of the alumni to PLU varied, but much of it was about finding an environment that fit them and provided an opportunity to explore their passions.
"The thing that's wonderful is there are so many things you can explore," Foster told the assembled crowd of students in the Scandinavian Cultural Center. "Trust your instinct to follow what inspires you."
When Anderson was finishing his degree in religion at PLU he wondered what he should next. He was advised to work with old people. Anderson wasn't sure how to make that a vocation, but his advisor told him, "It's alright. Ill teach you what to do."
When it was time for Alexander to choose his major, it came down to the study of people for him. Anthropology was a chance to explore how people function and work within society. He applied to work in operations and much of his career is still steeped in the study of people.
"My life is shaped largely by my pursuits and interests," he said. "I always look at life like I'm on a journey."
Most had very little to say about changing their PLU experience. If anything, Sander said, she would had have told herself to relax.
"Everything I did at PLU I'd tell myself to do again," Sander said. "(But) be more laid back. You don't have to have all the answers right here and right now."
Lastly, the panel was asked if a PLU and a liberal arts education was worth the financial investment.  Without hesitation each said "yes."
"I couldn't do what I do without it," Anderson said.