Currently Reading:
Nathan Page '13
October 12, 2012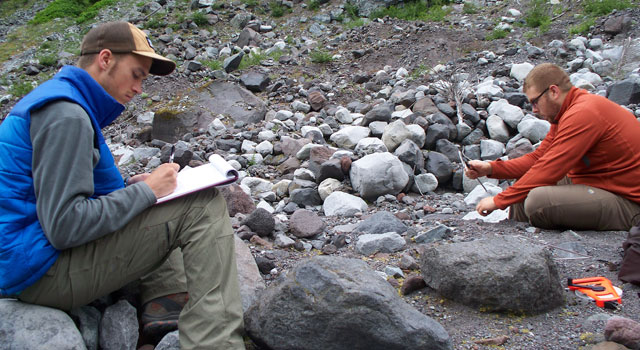 Nathan Page '13 – I never thought I'd spend my summer on Mt. Rainier with my prof
By Katie Scaff '13
When college students dream up the perfect summer, it usually doesn't involve getting up at 3 a.m. to take water samples, living out of your backpack, and sleeping in the trees. But for geosciences major Nathan Page, there was no better way to spend the last summer of his undergraduate education.
Page set out on a series of research trips with four of his peers and Assistant Professor of Geosciences and Environmental Studies Claire Todd to study waste management on Mt. Rainier.
It was a great way to spend the summer, said Page, who spent two-to-three days each week in the national park. "I never thought I'd have the opportunity to do research outside and kind of mix my love for recreation and being outside with a potential career."
Since coming to PLU, Page has found his passion being outdoors. He took a J-Term hiking course in New Zealand during January 2011 and hiked around the Patagonia Mountains with a friend during January 2012. He's also an active guide for PLU's Outdoor Recreation Club.
"I pictured myself doing more of this kind of stuff in college," said Page. "You've got the Olympics to the West, the Cascades to the East – PLU's location and just the accessibility really made a difference to kind of push me outside more."
When he heard about PLU's undergraduate research fellowship opportunities he decided to apply. He and four other students were chosen to research various environmental issues on Mt. Rainier with professor Todd.
Each week, they spent two nights on Mt. Rainier, hiking anywhere from three to 15 miles to their research area, collecting a sample before bed, then getting up at 3 a.m. to take water samples, and begin the hike to another glacier for more samples before turning in for the night.
While his peers slept on the ground, Page nestled into his red and gray hammock – Page's preferred camping set up, which can make for either the best or worst night's sleep, according to Page.
Because they were gone for days at a time and had to carry their research tools, food, camping gear, and clothes on their backs, packing light was a must.
"It kind of got to a competition this summer, who could pack the lightest – who could make do with the least amount of clothing," Page recalled.
Although such a research project wasn't required for his major, Page said there's no other way he could see himself spending the summer. "I feel more at home in those types of environments than I do in a more human-dominated environment," said Page. "Mount Rainier this summer turned into a home for me. When it was over, I felt weird not going back."