Currently Reading:
Dia de los Muertos
October 29, 2012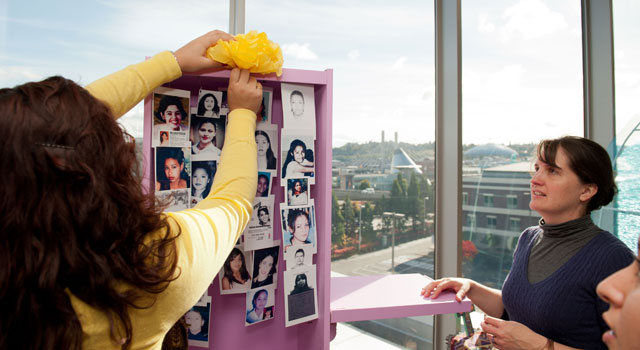 Dia de los Muertos
The Tacoma Art Museum is expecting a few extra guests from beyond the grave for Day of the Dead – Dia de los Muertos.
The museum is hosting a celebration of Day of the Dead by inviting more than 20 community groups – including PLU students – to build altars to remember and celebrate the spirits of the dead. The Tacoma Art Museum's Day of the Dead exhibition can be seen for free on Nov. 4.
For PLU, the Hispanic student club Latinos Unidos took charge in creating an altar from PLU students – the first time anyone from PLU has participated in the celebration. And being PLU students, they felt a strong draw to highlight social justice, said Montserrat Walker '14, majoring in Hispanic studies and peace and conflict resolution.
"We really wanted to do something not just culturally relevant, but something that displayed social justice," she said.
The group chose to take a chapter from their Hispanic studies 301 course and show reverence and celebration of the women of Juarez, Mexico. In Juarez, many women continue to disappear, some are found dead and even mutilated, Walker said, and others are just never seen or heard from again.
"We just wanted to say that we're here to remember and support them," Walker said.
To remember these women, small pink crosses are displayed throughout Juarez. The PLU students chose to follow this path by building an altar that looks like a large pink cross, with pictures of the women and tributes of oranges, paper flowers and a print out that tells their story.
"I think it's about empowering women," Walker said. "Awareness is the first step."
Day of the Dead is not a mournful time, but a celebration of the lives of those who have died. Altars are colorfully built and tributes of what the dead loved in life adorn each one, including food and drink.
"The idea of death in Mexico, and Day of the Dead specifically, is the spirits return and instead of a time of sadness it is a celebration. It's a party," said Bridget Yaden, associate professor and coordinator of Hispanic studies. "Death is just a natural part of life."
Yaden said, participating in the Tacoma Art Museum event was purely student-driven and really shows how students take what they learn in the classroom and bring it into the communities they are a part of.
"Branching out into the community like this is really great," Yaden said. "We know the majority of what our students do with their education happens outside the classroom."
Walker said, being a part of an event like this allows students to show what they've learned and share that with the community.
"I think what it best highlights is we have this living and learning community at PLU," Yaden said. "This is 100 percent driven by them with no carrot at the end of the stick. That's just what our students do."
Day of the Dead – Dia de los Muertos
A series of events from Hong and Hispanic Studies:
Tuesday, Oct. 30 @ 6 p.m., Hong 1st floor lounge: Come make your own masks and paint sugar skulls while learning about their meaning for Dia de los Muertos.
Thursday, Nov. 1 @ 6 p.m., Hong 1st floor lounge: A brief presentation on the Day of the Dead, followed by Comparsa, pan de muertos and hot chocolate.
Sunday, Nov. 4 from 10 a.m. to 4 p.m.: Visit the Tacoma Art Museum's Day of the Dead exhibition for free and see PLU's altar.