Currently Reading:
Playing reporter on election night
November 5, 2012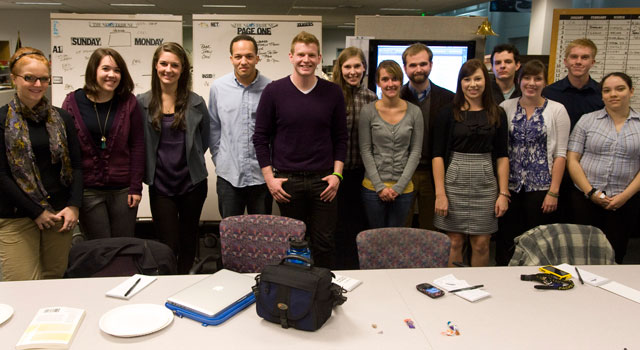 Playing reporter on election night
Election night is a momentous occasion for all who eagerly await the results, but, for a small number of PLU students, election night is about more than sitting on the couch and watching the results come in on TV.

November 5, 2012
Lute perspectives
PLU students share what's important to them this election cycle.
For the last five years, students have become reporters for the night—writing, tweeting, and taking photos for the News Tribune at various campaign parties around the Puget Sound, inputting data as it comes in at news stations like KOMO and Q13, and, new this year, shadowing reporters for Olympia's TVW.
There's no easy way to capture the energy and excitement at these events—but that's what students who are out at the election parties are asked to do.
"It's a free for all. It's super high energy," said business finance and economics double major Igor Strupinskiy '14, who took photos for the News Tribune for last year's election.
The nature of the campaign parties vary year to year and from location to location — with several hundred people attending the Washington State Democrats Election Night Party in Seattle and the Washington State Republican Party in Bellevue, and crowds in the dozens at South Sound parties and parties for initiatives rather than specific candidates.
Students working for the News Tribune typically gather at their Tacoma office around 5 p.m. on election night, meet and exchange contact information with political columnist Peter Callaghan — who will serve as their editor for the night — and get a quick and dirty run down of the goals and expectations for the night. Per tradition, the Tribune also provides pizza for its student workers, but it wouldn't be election night unless it arrived late. Students stress out waiting to grab a few slices before heading out to the parties, which subtly sets them up for the fast-paced, high-stress night that's ahead of them.
The students head out to their parties in teams of three, with a blogger, a tweeter, and a photographer, with the goal of capturing the unique atmosphere at their party and how the crowd receives the results as they come in — something that's often easier said than done.
"If you've never done it before it's pretty intimidating," said Strupinskiy. "There's no way you can really expect what's going to happen. You go in trying to get the best footage you can."
For communication and women's and gender studies double major Kortney Scroger '14, it's a whirlwind of activity and excitement.
"It was kind of crazy. All I remember is just a bunch of cameras and flashing, and people running around when it came close to crunch time," said Scroger of last year's election night party for I-1183 at the Clarion Hotel in Seattle.
Election night is entirely new kind of experience, even for students like Heather Perry '13, who is majoring in communication with an emphasis in journalism.
"It goes by really fast. It's kind of like a crash course in journalism," said Perry. "I finally got to figure out what I'd be doing if I pursued this."
While a dozen or so students cover these parties into the wee hours of the night for the News Tribune, other students find themselves inputting data for local TV news stations, like Q13 and KOMO.
Communication major Meghan Arnston went to Q13 during the 2011 election and KOMO during the 2012 election, and she'll be returning to one of those stations again this year.
The environment in the newsroom, for students like Arnston, is less fast-paced than those working for the News Tribune, but it's just as fun.
"It was kind of a hurry up and wait thing," said Arnston. During the down time while her team waited for results to come in, they got a tour of the stations. "It was really cool to see behind the scenes."
In all, about 20 PLU students will be participating in election night from Olympia to Seattle Tuesday night, working for the News Tribune, TVW, Q13 and KOMO. In particular, three of these students will work with TVW, in a new partnership between the station and the communication department. Two of the students will shadow reporters in the field, while the third shadows the anchor at the station.
Students new to election night coverage are eager to see what their night entails, while returning election night students are looking forward to their first experience covering a presidential election.
"This time I'll get a wider sense of what the election means on a broader scale," said political science and global studies double major JuliAnne Rose '13. "It's an election that everyone has a lot of stake in. Everybody has a lot of opinions and I have a lot of my own opinions, and so it's going to up my anticipation level of what the results are going to be. It will kind of feel like I'm part of the history more than if I were to just cast my vote."