Currently Reading:
KPLU Christmas Jam concert and live broadcast with special guests Pearl Django
November 27, 2012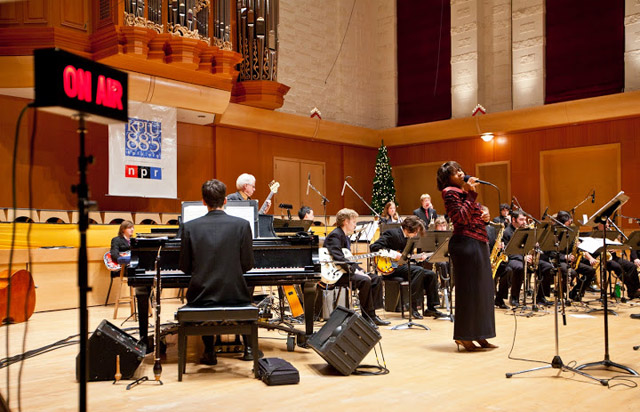 KPLU Christmas Jam concert and live broadcast with special guests Pearl Django
The 16th Annual KPLU Christmas Jam, 88.5 KPLU's much-anticipated FREE holiday concert, features guest artists, Gypsy jazz masters Pearl Django – from noon to 1 p.m. Thursday, Dec. 6 in Lagerquist Concert Hall in the MBR at PLU.
Pearl Django will perform Christmas selections with the University Jazz Ensemble under the direction of David Deacon-Joyner.  The event will be hosted by KPLU's Nick Morrison and broadcast live.
Entering their 18th year of performing, Pearl Django continues to be one of America's most respected and busiest Hot Club style groups. Though still strongly influenced by the music of Django Reinhardt, Pearl Django's repertoire now includes many original compositions. Their music reaches out across the divides of taste to a wide variety of audiences. The band's fervent followers include Django Reinhardt and Stephane Grappelli fans, guitar enthusiasts (and guitarists!), lovers of string music, including bluegrass devotees, who relish nimble, clean, intricate picking, "world music" fans drawn to French and Gypsy accents, plus jazz buffs and aficionados of the new swing music. Transcending simple categorization, Pearl Django packs in enthusiastic audiences at dancehalls and nightclubs, at folk music festivals and jazz festivals alike.  Their 11th album, Eleven, was released in May 2012.
Pearl Django is Michael Gray, violin; Troy Chapman and Ryan Hoffman, Rick Leppanen, bass; and David Lange, accordion.
The University Jazz Ensemble is a jazz big band, varying in instrumentation according to repertoire. The ensemble performs regularly on the PLU campus, at jazz venues in the Puget Sound area, regional high schools, and national jazz festivals. The ensemble performs jazz big band repertoire from all eras of the music, from Duke Ellington to Maria Schneider, and covers all styles of jazz from early swing to jazz/rock.
House doors open at 11:15 a.m.  Early arrival is strongly suggested due to festival seating.  More information, including directions, campus map and printable parking pass, is available at www.kplu.org.