Currently Reading:
Follow your dreams and say "yes" to opportunities, Patricia Krise advises
November 30, 2012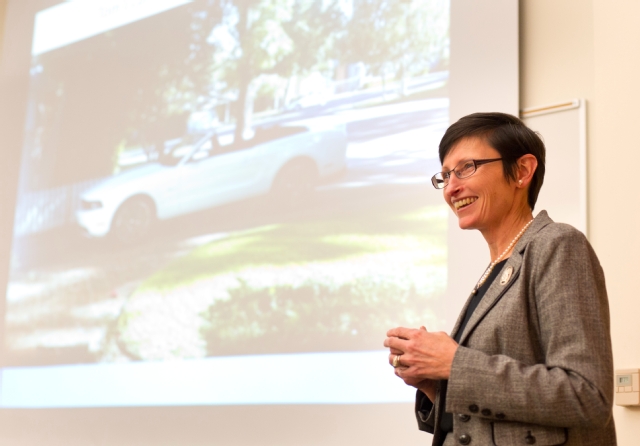 Say "yes" to new opportunities, Patricia Krise advises MBA students
By Barbara Clements
University Communications
As she wound up to take a crack at hitting a ball thrown by Rollie Fingers, a retired Hall of Fame baseball relief pitcher, Patricia Love Krise was mulling over her decision to always say "yes" to any new opportunities. Even as she saw the fastball come blurring toward her.
Fingers nicked Krise with his throw, but even now, looking back at the incident 15 years later, Krise told a room of students in PLU's MBA program she was glad she decided to go to baseball fantasy camp – a reward for winning a sales contest at  Infiniti – along with 89 guys. She was the only woman.
"That was my 15 seconds of baseball fame," Krise said dryly to the standing room only crowd in Morken Center in late November during the State Farm MBA Executive Leadership Series at PLU. But, Krise said, it's always good to say "yes" to new opportunities, even if it puts you in totally unfamiliar situations. This particular situation offered her a chance to play against some baseball greats, such as Catfish Hunter, Brooks Robinson and Yogi Berra – a chance she wouldn't have otherwise had.
Krise, the wife of PLU President Thomas W. Krise, offered other tips she's learned about negotiating the business world after working 28 years working for the Ford Motor Company and the Nissan Motor Corporation. Currently she is working as a project manager for Ford Motor Credit.
She met her future husband when she was working as a sales representative for Ford in a territory that included Minot, N.D., where Tom Krise was working for the U.S. Air Force.
Patty Krise ended up there after saying "yes" to that territory, a move she wasn't initially thrilled about. What in the heck does one do in North Dakota in the winter, she wondered. And what is the plug hanging out of the engine of the car for? After one winter in Minot, she found out. It was to make sure the engine started in cold weather.
Krise was born in Indiana, a proud Hoosier, and received her bachelor of arts in business from Hanover College in Indiana, and her MBA from Miami University in Ohio. A third-generation Ford employee, she hadn't really intended to follow in the family business. This was just the first employer who offered her a job. Between her father, grandfather and two uncles, Krise figured that the five of them had worked 159 years at Ford.
In any job, but especially in a male dominated industry, it's also important to find mentors, Krise added. Her mentors have taken a chance on her over the years and given her new opportunities she wouldn't have had otherwise, she said.
"Seek out the mentors, if you can do it, it will open up so many doors," she said.