Currently Reading:
Food For Thought: Dallas Gordon
December 1, 2012
Dallas Gordon '14: 'Kraft and Betty Crocker ain't got nothing on my dad.'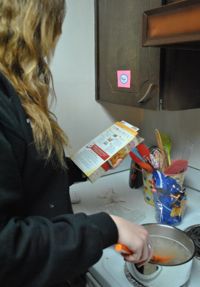 Gordon moved into a house off campus with her friends this year and has been slowly but surely learning the ropes to cooking on her own. She's learned live off boxed versions of her favorite foods from home, homemade jambalaya and macaroni and cheese. "I have a lot of boxed items so I just cook them up really quick and cook some meat and it probably takes me 30 minutes," Gordon said.
Major: communication
Hometown: Edmonds, Wash.
What home cooked meal she misses most: homemade jambalaya
Staple Food: quesadillas and Annie's Macaroni and Cheese
Specialty: pasta with homemade sausage meatballs
Where she gets her food-spiration: Her father. "We watched cooking shows together," Gordon said. "He called me his sous chef and I would help him cook and cut vegetables. On big holiday get-togethers, I would help him in the kitchen."
Where she gets her food: Saars, QFC and Winco
Grocery List: almond milk, yams, onions, garlic, spinach, Idahoan dehydrated potatoes, Annie's macaroni and cheese, and turkey burgers
Breakfast: half of a sandwich or a granola bar
Lunch: a bowl of soup or a sandwich
Snack: pretzels
Dinner: macaroni and cheese or a turkey burger