Currently Reading:
Food For Thought: Rebecca Goulson
December 1, 2012
Rebecca Goulson '15: 'I'll have the soup.'
Goulson admits that she doesn't really know how to cook, but, as a sophomore who lives on campus and has a meal plan, she doesn't need to. She can get everything she's looking for, whether it's cereal, pasta, soup, veggies, or a quick snack on campus. "it's really convenient and easy," Goulson said.
Major: math
Hometown: New Prague, Minn.
What home cooked meal she misses most: dad's homemade chili
Staple Food: soup
Specialty: bowl of cereal/homemade mac and cheese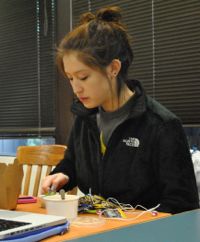 Where she gets her food-spiration: "My dad's cooking" and also find recipes on the food network's website
Where she gets her food: on campus
Grocery List: n/a
Breakfast: bowl of Cinnamon Toast Crunch with nonfat milk
Lunch: bowl of soup and toasted plain bagel with cream cheese from the Anderson University Center
Snack: popchips
Dinner: bowl of soup and vegetables from the Anderson University Center
Late Night Snack: bowl of buttered popcorn and Cheez-Its