Currently Reading:
One step at a time
January 23, 2013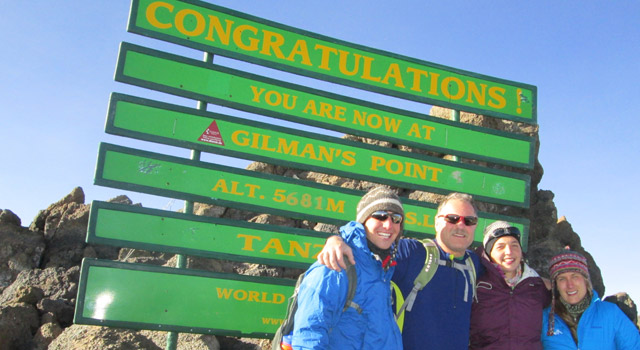 One step at a time
The guides up the mountain keep a cadence of "pole, pole" as three PLU students ascend into the heavens.
The words are Swahili for "slowly, slowly," and Anna McCracken '14, Kelsi Leu '14 and Anthony Markuson '13 soon learn that reaching the top of Mt. Kilimanjaro is a slow climb.
"The very first day we were climbing through a rain forest," Leu said. "I've never hiked that slowly so it was kind of frustrating."
She learned the pace wasn't slow to frustrate though, but rather to avoid altitude sickness.
Markuson recalled how the final ascent was a slow climb into the dark. It starts early in the morning in hopes of reaching the top as the sun rises above the clouds and over the mountain. Each step was slow and for hours the climbers have nothing to see but the illumination of head lamps and the boots of their fellow travelers ahead of them.
"One step at a time," Leu said. "There are a lot of things you can do. The guides always told us 'Only think about today. Don't worry about tomorrow.'"
But the pace isn't only necessary, Markuson said, it's worth it.
"It's like walking on the moon," said McCracken, a global studies and anthropology double major.

---
Anthony Markuson '13
Major: biology
Hometown: Chester, Mont.
Study away: Botswana – working on community health
What's next? After he graduates, he plans to spend the next year in the Lutheran Volunteer Corps, while applying to medical school.
What brought the three to Africa and the top of that continent were study away experiences during the fall semester.
---
Anna McCracken '14
Major(s): global studies and anthropology
Hometown: Spanaway, Wash.
Study Away: South Africa – studying social and political transformation
What's next? After she graduates, she would like to spend a year volunteering. "I have a feeling South Africa will call me back."
Last spring, the three friends realized they were all going to be studying in Africa for the fall semester.
McCracken had plans to travel to South Africa to study social and political transformation. Leu would be in Zanzibar, where she would study coastal ecology and work on a waste-management program. Markuson, who intends to go to medical school after graduation, would be in Botswana where he would work on community health issues.
Africa is a big place. But they knew they had to meet somehow, somewhere, while they were there.
While sitting in the Anderson University Center on campus it came to them. They'll meet up in Tanzania and climb Mt. Kilimanjaro.
Leave it to a few Lutes to celebrate by climbing the highest peak in Africa, at 19,341 feet. None of them had done something like that before, but that wasn't going to keep them from trying.
"Even while we were talking about it we were like 'is this really going to happen?'," said Markuson, a biology major. "It's definitely not something I thought I'd ever do."
During the semester, the three kept in contact by email, keeping alive their idea to meet up and journey into the clouds.