Currently Reading:
Grad lands dream job
January 28, 2013
After travelling to Macedonia on a Fulbright Student Fellowship and working for the National Albanian American Council, Kelly Ryan '10 has landed his dream job — working for the State Department.
Ryan made the trip to Skopje, Macedonia shortly after graduation to carry out his Fulbright. There, he analyzed the dialogue process of the Nansen Dialogue Center and its efforts to promote linguistic and ethnic integration in schools.
"Right now the school system in Macedonia is segregated linguistically, which also means that it's segregated ethnically… so [my project] was an analysis of how this organization is trying to promote integration within the school system."
Always wanting to do more, Ryan also made time to volunteer at the American Corner Library in Skopje, helping with English language classes and Model UN competitions.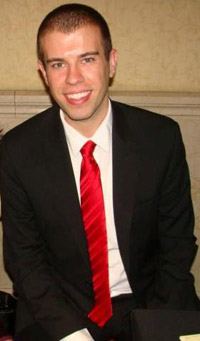 Although he was nearly 6,000 miles from home, Ryan didn't get the opportunity to feel homesick. Several friends, colleagues, and even professors came to visit. Some came for research purposes, and some came just to see him. Among his visitors were PLU professors Amanda Feller and Melissa Franke and former professor Ann Kelleher."I couldn't even believe how nice it was of them to travel all of that way," Ryan said.
Feller and Ryan joined forces in Skopje and wrote a journal article for publication based off their experiences with the dialogue center. Their article, entitled, "Definition, Necessity, and Nansen: Efficacy of dialogue in peacebuilding," was recently the leading article in Conflict Resolution Quarterly.
"We've done so many research projects together," Feller said. "He's a very valuable colleague…as well as just a very supportive human being in general."
Franke agrees. She was Ryan's speech and debate coach while he was at PLU, and remembers Ryan as a fun and dedicated student.
"One thing that is quite remarkable about Kelly is he can see this path that will get him from here to where he wants to be, and he will deliberately and purposefully take each of those steps."
After ten months in Skopje, Ryan returned to his home state of Montana for a few weeks before starting his Master's program at American University in Washington, D.C.
While studying, he landed a part-time job at the National Albanian American Council, and was quickly promoted to a full-time position as the Hope Fellowship Program Assistant. One of his main duties as Program Assistant was to aid female ambassadors of Kosovo, a region in the Balkans, as they attended panel discussions and Congressional meetings in D.C.
Ryan also helped set up the National Albanian American Council's annual gala in New York, which former British Prime Minister Tony Blair, current Albanian President Bujar Nishani, and Kosovo's President Atifete Jahjaga have attended.
Ryan admits balancing school and work was tough, but the personal connections he made through his job were well worth the challenges.
When a friend in his Master's program mentioned an open position in the Bureau of Near Eastern Affairs opened, Ryan jumped at the opportunity. He recently began his role as an Iraq program assistant, supporting non-military U.S. personnel travelling to Iraq.
Ryan is extremely happy with his position in the State Department, but, as always, is actively moving forward in his role in foreign affairs.
"I would really like to hopefully one day transition in to the Foreign Service and be a U.S. diplomat down the road," Ryan explained.
Franke though has even higher aims for the alum.
""I got a text message from him that said, 'Will you be my debate coach when I run for president?'" Franke said. "He makes those kinds of jokes, although I think he's charismatic enough to do a very good job."
For now, Ryan is occupied with school and full-time work, but he's still looking ahead to see what else is out there.
""I'm actually going back to Macedonia and [doing] more in-depth research on the impacts of bilingual integrated education on social contact," Ryan said explaining his thesis project for his Master's program. "I always knew that I wanted to go back…it's, I'd say, my third home."