Currently Reading:
Real-World Mentors: Maura Gannon
February 1, 2013
Maura Gannon '10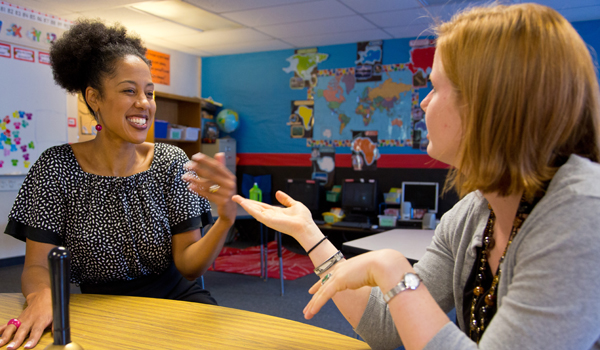 Erin Jones '01 chats with Maura Gannon '10 in her classroom.
Maura Gannon '10
Major: Education
Employer: Federal Way School District
PLU Connection: Erin Jones '01, director of equity and achievement at the Federal Way School District
Sometimes the connection occurs in the job search, but other times, that key link with a fellow Lute may occur after a career is launched. That was certainly the case with Maura Gannon.
During Gannon's School of Education graduation ceremony two years ago, she remembers hearing Erin Jones speak about her experiences in the field and what inspired her. She encouraged the new graduates to go out into the world and make a difference. Two years later, their paths crossed again, much to Gannon's delight.
Gannon was entering her third year as a third-grade teacher at Mirror Lake Elementary School in Federal Way, and Jones was in her first year as the director of equity and achievement for the district. Jones' job entailed traveling throughout the district teaching workshops, including at Mirror Lake.
"We connected right away," Jones said.
She was asked to do some intensive work on team building with a few teachers, including Gannon. Before the school year started, Jones asked Gannon if she could be her mentor.
"That would be incredible," Gannon recalled saying. "It's funny because in the world of education she's a big deal, and I felt like, 'Wow, Erin Jones knows my name.'"
And as a mentor, Jones is bringing more to Mirror Lake than just helping a single teacher, Gannon noted.
"I don't think she realizes she's not just affecting me and my 25 kids, but she's impacting our whole school," Gannon said.
Jones was excited because so much of her philosophy as an administrator is to stay connected to the classroom. She told Gannon's class at the beginning of the year that she had basically adopted all of them. Jones reflected that, in a sense, she's continuing the first experience she had at PLU: becoming part of something bigger and part of a community. In Gannon, Jones sees someone who is doing what PLU instilled in her.
"I think what excites me about Maura, and why I'm eager to mentor her, is that before we even talked about mentoring she was already asking for help and doing more to learn more," Jones said. "For someone that is eager to learn, I will make the time. She's already doing great things."
The pair is just implementing the skills they were both taught at PLU, Gannon said.
"So much of what we learned in the education department really sets us apart from others," Gannon said. "I'm practicing what I learned and I feel like I came into teaching with 20 more sets of skills than other new teachers."
—Chris Albert
To read about Bryce Manso '10 and his real-world mentors, click here.
To return to the Real-World Mentors main page, click here.