Currently Reading:
Namibian homecoming to PLU
August 14, 2013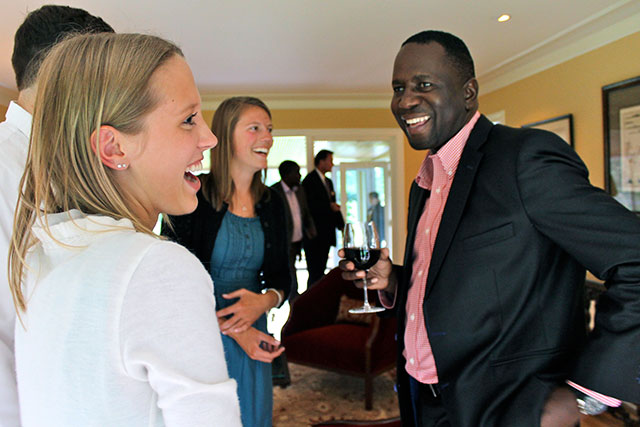 Namibian homecoming to PLU
By Joanne Lisosky, professor of communication
Included among the delegation of Namibian dignitaries touring the Pacific Lutheran University campus last week was a proud alumnus, Edwin Tjiramba, who delighted in sharing his fond memories of PLU.
"I was born in Namibia, but my future was born at PLU," Tjiramba said with a wide grin. Tjiramba currently serves as the Communication and Marketing Director for the University of Namibia.
The PLU campus visit for the Namibian delegation was arranged by the Wang Center for Global Education at PLU. The dignitaries joining Tjiramba included the Vice-Chancellor of the University of Namibia, Dr. Lazarus Hangula; Dr. Kenneth Mantengu, Director of External Relations for the University of Namibia; and Dr. Alfons Wabahe Mosimane, Head of the Life Sciences Division at the University of Namibia.
The Namibian delegation met with several PLU representatives including Frank Kline, Dean of the School of Education and Kinesiology; Terry Miller, Dean of the School of Nursing; and Matt Smith, Dean of the Division of Natural Sciences.  In addition, President Thomas Krise and his wife, Patty, hosted a dinner in honor of the Namibians at Gonyea House.
But it was Edwin Tjiramba's powerful connection to PLU that made this global homecoming an uncommon treat. He first arrived at PLU in 1990 through an educational program initiated by the Lutheran Church in the newly independent country of Namibia. Tjiramba competed with more 800 of his fellow high school graduates to win the opportunity to study abroad at a Lutheran University. Then Campus Minister, Ron Tellefson, raised the local funds to host the Namibian students at PLU. As a result of this global project, more than 100 Namibians studied around the world during this five-year Lutheran educational initiative. Tjiramba was one of nine who studied at PLU.
While at PLU, Tjiramba majored in communication. But his education did not stop here. He went on to earn a Master's Degree from California State University-Fullerton and next spring he will complete a law degree from the University of Namibia.
Even though Tjiramba returned to his native Namibia after graduation, he was never too far away from his first alma mater. "I made friendships at PLU that have lasted until this day," he said. "In fact, two of my fellow students from PLU came to Namibia to my wedding." His wife, Emmy Tjiramba also studied at PLU, earning her Master's Degree in Education in 2008.
In turn, PLU found ways to maintain its connection to Namibia and Tjiramba. Professor, Paula Leitz, has travelled to Namibia since 2002 and beginning in 2008 she initiated a J-term course where PLU education students practice student teaching in Namibia's primary and secondary schools. As a result of Leitz's initiative, more than 50 of PLU's future teachers have unique teaching experiences in Namibia.
During his most recent homecoming, Tjiramba met with several of his former PLU faculty members including, retired Professor Ann Kelleher. He was also reunited with several of the PLU education students who studied in Namibia last winter.
Tjiramba's memorable PLU experience, along with several of his fellow PLU alumni from Namibia, will be the subject of an upcoming PLU MediaLab documentary.