Currently Reading:
PLU names new VP of Marketing and Communications
September 6, 2013
Pacific Lutheran University hires new Vice President of Marketing and Communications to promote the university's vision of service, sustainability and leadership.
Donna Gibbs, a marketing and communications leader for over 20 years, will become the new Vice President of Marketing at Pacific Lutheran University.
President Thomas Krise said that Gibbs' vast experience in developing and marketing some of the best known brands in the world – Nike, Apple and Microsoft – quickly brought her to his attention as the top candidate to promote PLU's brand, story and mission in the 21st century. At each point in her career, Gibbs used her expertise in emerging Internet companies and global marketing agencies to guide and strengthen the brand of the companies she worked for.
"Donna Gibbs brings a rich and diverse background to PLU as Vice President for Marketing and Communications," said President Thomas Krise. "She has demonstrated leadership in a variety of marketing and communications roles in the United States and abroad.
"I am delighted to have someone of her caliber as the founding leader of our new Division of Marketing and Communications," he said.
Gibbs will begin her official duties at PLU on Sept. 16.
"I'm very excited to work with the talented team at PLU and to help take the University to new levels of excellence locally, regionally and on the global stage," Gibbs said. "It's been a dream of mine to work in higher education, and I'm honored to be associated with such a highly-regarded institution and to help shape the next generation of people committed to lives of service, leadership and care for others."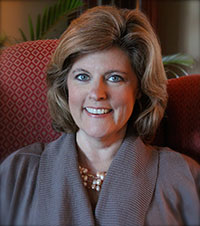 Donna Gibbs is the new Vice President of Marketing and Communications.
Gibbs most recently served as managing director, and helped establish the west coast operations, of Bluetext, a Washington, D.C.-based digital marketing and strategic communications firm that counts among its clients Google, Adobe, Cisco and Intel.  Before joining Bluetext, Gibbs lived and worked in Malta and Barcelona, Spain, where she served as chief marketing officer for emerging mobile media companies. Prior to moving abroad, Gibbs served as senior vice president for consumer marketing and ecommerce at PlanetOut, a leading media and entertainment company based in San Francisco. She also helped lead the company to a successful IPO in 2004.
Earlier, Gibbs was executive vice president at The Weber Group (later Weber Shandwick Worldwide), where she managed six offices and participated in managing key enterprise accounts including Adobe and Gateway Computer.
Gibbs has also served as vice president of corporate communications at Nike, where she was chief communications strategist and spokesperson on a wide range of issues including regulatory concerns, production sourcing and labor practices, mergers and acquisitions and financial performance during one of Nike's most rapid periods of global expansion.
Prior to Nike, Gibbs was director of public relations at Mattel, Inc., where she was a member of an integrated brand marketing team devoted to reaching the billion-dollar milestone for Barbie worldwide sales.  Gibbs began her corporate career at Apple as a public relations manager.
Gibbs graduated with a bachelor's degree in communications arts and sciences from Michigan State University. She currently lives in the San Francisco area with her husband Dennis Minor and two spoiled standard poodles.  She is a long-time volunteer for Meals on Wheels and National Public Radio.