Currently Reading:
PLU choral conductor winner of The American Prize for 2013
September 16, 2013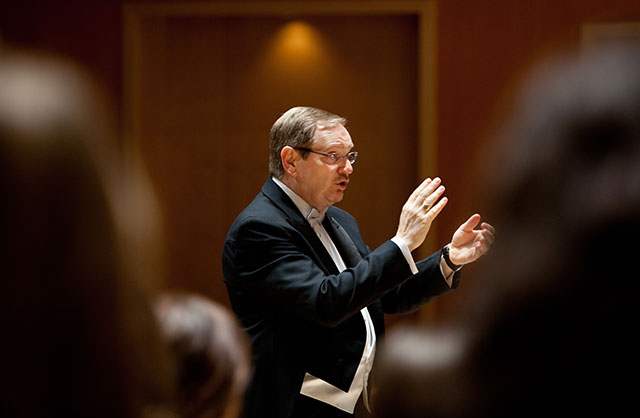 PLU choral conductor winner of The American Prize for 2013
Pacific Lutheran University's professor and choral conductor, Richard Nance, was named the winner of The American Prize for 2013.
Richard Nance is the Director of Choral Activities at Pacific Lutheran University where he has worked since 1992. At PLU, Nance conducts the Choir of the West, Choral Union, and teaches classes in choral conducting. Nance holds bachelors and masters degrees from West Texas State University and the Doctor of Musical Arts from Arizona State University. He has studied conducting with Hugh Sanders, Douglas McEwen and David Stocker, and composition with Joseph Nelson and Randall Shinn. Nance is an active member of the American Choral Directors Association (ACDA) and has held many state and divisional offices. Nance's choirs have appeared at several ACDA conferences and have toured Europe on five occasions. In the summer of 2011 the Choir of the West won two gold and one silver certificate at the prestigious Harmonie Festival, held in Lindenholzhausen, Germany. Also in 2011, two PLU choral albums under Nance's direction won first and second prize in their categories of the "American Prize" competition, and Nance received first prize for conducting.
Richard Nance's compositions are regularly performed by school, university, church, community and festival choirs. In 2002, Nance was selected to compose the prestigious Raymond Brock Memorial Composition for the American Choral Directors Association. Other composers who have shared this honor include Gian-Carlo Menotti, Eric Whitacre, Morten Lauridsen, René Clausen, Daniel Pinkham, Samuel Adler and Gwyneth Walker.
Among judges' comments: "The sound of this choir gives powerful evidence of a conductor with very fine pedagogical and gestural technique."
The American Prize is a series of new, non-profit national competitions in the performing arts providing cash awards, professional adjudication and regional, national and international recognition for the best recorded performances by ensembles and individuals each year in the United States at the professional, college/university, church, community and secondary school levels. Administered by Hat City Music Theater, Inc., a nonprofit organization based in Danbury, Connecticut, The American Prize was founded in 2009 and is awarded annually. The competitions of The American Prize are open to all U.S. citizens, whether living in this country or abroad, and to others currently living, working and/or studying in the United States of America, its protectorates and territories.